Added on May 17, 2013
admin
70th anniversary , barnes wallis , bbmf , dambusters , guy gibson , lincoln cathedral , raf , raf scamp ton , yja , yja radio , young journalist academy
YJA attend 70th anniversary Dambusters service at Lincoln Cathedral
70 years ago the 617 Squadron flew their Lancaster bombers in the Dambusters Raids. On the 17th of May 2013 people from around the world gathered to remember the Dambusters with a service at Lincoln Cathedral and a flypast from one of the two remaining airworthy Lancaster bombers.
The Service of Commemoration was held to thank the RAF for the outstanding achievement and bravery. There were hymns and over 1,300 people gathered at the Cathedral. The streets full of people were ecstatic when the Lancaster flew over.
The Lancasters carried the Bouncing Bombs which blew up the dams in the Ruhr Valley of Germany, which helped the British war effort in World War Two.
So one of the reasons today we live our normal lives is because of these brave people that sacrificed their lives in the war for us; just imagine what it would be like if they hadn't saved our homes and towns.
By Leo
Monks Abbey News Team
Listen to Monks Abbey's Dambusters special, everyday at 11am & 4pm on YJA Radio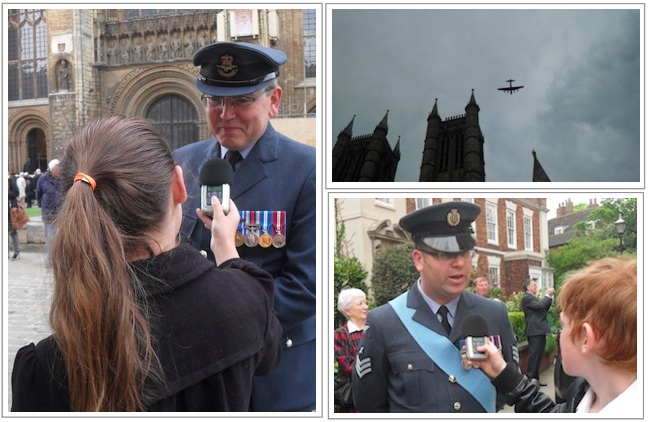 (Left to Right) Sophie from Monks Abbey news team speaks to Station Commander of RAF Scampton Richard Turner, the Lancaster flies over Lincoln Catherdral, Monks Abbey's Leo speaks to Chief Technician Sharp of 617 Squadron.