Added on May 17, 2013
admin
70th anniversary , barnes wallis , bbmf , dambusters , guy gibson , lincoln cathedral , raf , raf scamp ton , yja , yja radio , young journalist academy
YJA attend 70th anniversary Dambusters service at Lincoln Cathedral
The Young Journalist Academy is proud to have been invited to Lincoln Cathedral's service of commemoration as part of the 70th anniversary of the famous Dambusters Raid.
Organised by Aviation Heritage Lincolnshire, in conjunction with Lincolnshire County Council, the event was attended by a congregation of over 1,300 people, including veterans of the raid Johnny Johnson and Les Munro, who flew from New Zealand to be there. Other relatives of those involved in the raids, including Guy Gibson's nephew and Mary Stopes Roe, the daughter of Barnes Wallis, were also in attendance.
The service was led by the Dean of Lincoln Cathedral, supported by the Chaplain in Chief of the Royal Air Force, and followed by a flypast by the Lancaster of the RAF Battle of Britain Memorial Flight and a pair of Tornado aircraft from 617 Squadron.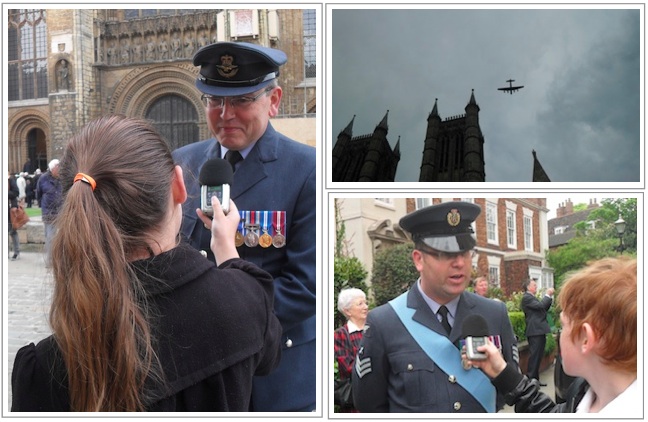 (Left to Right) Sophie from Monks Abbey news team speaks to Station Commander of RAF Scampton Richard Turner, the Lancaster flies over Lincoln Catherdral, Monks Abbey's Leo speaks to Chief Technician Sharp of 617 Squadron.
Listen to Monks Abbey's Dambusters special, everyday at 11am & 4pm on YJA Radio 
The Editors