Added on June 30, 2013
admin
castor , edgar broughton , ellen lavelle , elliot morris , festival , funny as folk , yja , yja radio , young journalist
Funny as Folk Festival a Success!
Podcast: Play in new window | Download
I ask Bridey Barber what she sells on her stall. 
"Spells," she says. "My husband makes the fairy dust."
We're sitting on camping chairs next to her stall, in a small clearing of woodland in Cabourne, near Caistor. It's Saturday 28th June and the clearing, along with the surrounding fields, has been overtaken by the 'Funny as Folk' Festival. I've brought my friend, Charlotte, along with me, to soak up the atmosphere.
"The festival has been fantastic so far," Bridey says, after talking us through the magical curiosities she sells. "We've got a variety of people here that are all very different and it's great."
An interview with: Click here – Charlotte Evan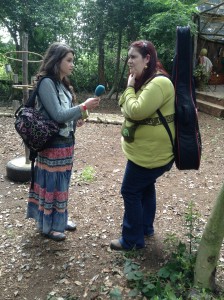 Charlotte and I make our way to the wooded area of the festival ground, where the animated, carnival atmosphere of the clearing gives way to what appears to be a fairy grotto. Lanterns hang from branches and, tucked away between the tree trunks, sits a stage. A small crowd have gathered and are listening to Steph Summerfield, strumming on her guitar, in the dappled shade of the afternoon sun.
Later, when she had finished her set, Charlotte and I asked Steph what makes festivals like the 'Funny as Folk' festival so unusual.
"I think partially it's the setting," she says, guitar slung across her back. "It's so open. You've got lots of different areas; you've got a big, open area of field on one side and a nice enclosed, intimate area of trees on the other. The organisers, Zeph and Lucy are amazing and they're kind of contagious in their enthusiasm and their laughter. I think they're what really make it."
An interview with: Click here – Steph Summerfield
I met Zeph last Tuesday, before the festival, and I know what Steph means about his enthusiasm being contagious.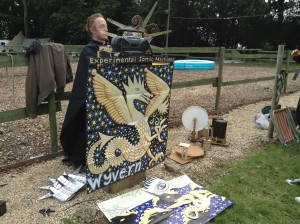 "We really wanted to put people together creatively," Zeph had told me. "We really wanted the stalls to be run by
people who had made the stuff they were selling. They could show kids and adults how to make it, why they had made it. Especially in this climate where no one has much money, we wanted to put people together who could express themselves in a cheaper environment, something that's sensible and affordable, but that's still creative as well."
There are lots of interesting people at the festival, selling unusual things. Among them is Pat O'Carrol from Greenheart, a social enterprise that promotes woodwork among young people.
An interview with: Click here – Pat O'Carroll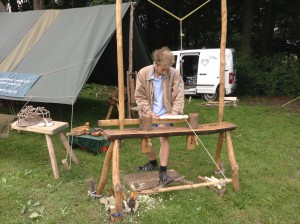 "Today we're doing traditional woodland crafts using hand tools," he says.  "Young people today don't really get to do that in schools anymore; a lot of the curriculum has been academically based and so they don't get to learn these skills or gain the confidence of being able to make something with their hands. I think a lot of intellectual ability comes from being able to use your hands to make stuff and so we're facilitating that and helping them become well-rounded young people."
Charlotte and I make our way back into the woodland area, where we meet Lindum Greene. Lindum runs poetry workshops, which is what she plans to do later that day. She agrees that the festival is special and, like Steph, puts it down to the hard work of the festival's organisers.
"Lucy and Zeph have put a lot of hard work in," she says. "It's small and intimate; it's not over-commercialised. People are coming to have a nice time with friends, to enjoy the space and relax. Maybe it's preaching to the converted because a lot of people who come to these sorts of festivals already think this way but I think so many people get caught up in the rat-race of commercialism and don't realise that this is more important than anything you could eat, drink or take: just being in nature and enjoying it."
An interview with: Click here – Lindum Greene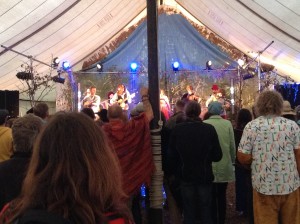 But it wouldn't be a festival without music. As the sun begins to set, disappearing behind the line of trees, tintingthe sky pink, a crowd begins to form outside the main stage. Families sit on the grass, steaming plates of nachos are passed around and the air smells of summer. Summer and bean chilli. It's an impressive line-up of musical acts, featuring Edgar Broughton, Elliott Morris and The Unknown Stuntmen. After he'd finished his set, Charlotte and I asked Elliott Morris for his take on the festivities.
"It's a lot of fun," he says. "Obviously, with this being the first year of the festival, I didn't know what to expect, but it's a lovely site and a really great audience as well."
An interview with: Click here – Elliott Morris
Fellow musician Edgar Broughton is of a similar opinion. "I really like these kinds of gigs," he says. "There's something about being in the open air and seeing little children about, having a nice time. I love it; it's great. It's always the people that make festivals like this special."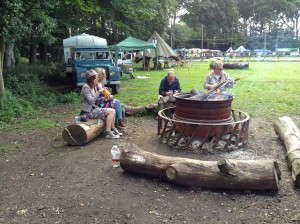 An interview with: Click here – Edgar Broughton
I couldn't agree more. I've been a young journalist for three years now, I've done a lot of interviews, but never have I encountered a group of people like those at the 'Funny as Folk' Festival. Not only are they all permanently smiling but they are also all so eager to be interviewed, in order to spread their enthusiasm.
I, like the rest of the festival-goers, had a great time and am looking forward to next year.
Ellen Lavelle
Senior Young Journalist – Priory Academy LSST