Added on July 7, 2013
admin
burgh school , djokovich , fred perry , tennis , wimbledon , yja
Murray wins at last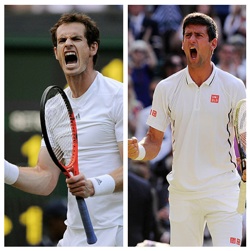 Today, Andy Murray has won Wimbledon against the world number one Novak Djokovic. In scorching heat, the Scot took the match 6-4 7-5 6-4.
It is only the second time that Great Britain has won the Wimbledon tennis championship. Great Britain last won in 1936, when Fred Perry was the champion.
People are really proud of Andy because he kept on going, even when things were tough.
The finalists played in temperatures of 40 degrees. You could clearly see that both players were finding it hard to carry on in such high temperatures.
One viewer said, "It was fabulous. I have never seen a game like it."
I think the right player won because he worked really hard and didn't give up.
When Andy won he was quite shocked because Djokovic played such a good match.
Do you think the right player won?
Macey, Year 5
Burgh School