Added on November 1, 2013
admin
abuse , burgh school , Childline , NSPCC , val foottit
ChildLine: Spreading the word
Podcast: Play in new window | Download

Volunteers from the helpline ChildLine plan to visit every UK primary school regularly to teach children about abuse and one Lincolnshire school has decided to raise funds to help them.
The new NSPCC campaign, called Now I Know, aims to teach nine to 11-year-olds about self-protection and getting help. The charity wants to visit schools at least once every two years.
Childline is a place children call if they are being abused. They can make contact if someone is hurting them or saying nasty things to them. Thousands of people ring ChildLine every day and talk about their problems.
According to a recent NSPCC report on average, two children in every primary class have suffered some form of abuse or neglect.
Burgh School is planning a sponsored 'work out' when children will be channeling all their energies to raise much-needed money for the charity.
Macey and Emily talk to Val Foottit from NSPCC: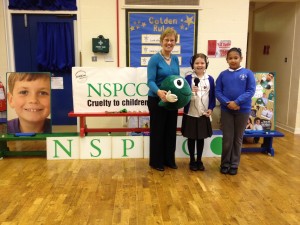 A spokesman for the charity said, "By helping children understand and identify abuse in an age-appropriate way, we can encourage them to speak out earlier and protect themselves and others from the devastating effects of abuse."
Young people who have any problems can always call 08001111 or go on the website www.childline.org.uk and get help.