Added on November 13, 2013
admin
dambusters , johny johnson
600 Lincolnshire Pupils Perform Musical Tribute to the Dambusters
Podcast: Play in new window | Download
In arguably the world's greatest concert venue, the last surviving British Dambuster, Squadron Leader George (Johnny) Johnson, was guest of honour at a stunning world premiere of 'Lincolnshire Skies: A Tribute to the Dambusters'.
Last night at the Royal Albert Hall, the Lincolnshire Music Service's massed ensemble showcased the wealth and breadth of musical talent within the rural county of Lincolnshire, uniting around 600 performers ranging in age and ability from nearly 40 schools. You can follow the day's memorable events here.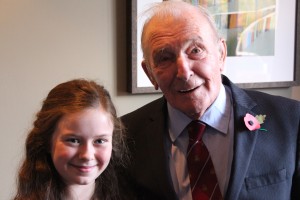 During the sell-out performance, audio from a remarkable interview by North Kesteven Academy's Georgina with Johnny Johnson was played out.
Johnny later commented:
"This special evening at the Royal Albert Hall is a most fitting finale to this year's 70th Anniversary commemorations of the Dambusters Raid of 16/17 May 1943. To be in the presence and hear 600 children and young people from the county of my birth perform the premiere of 'Lincolnshire Skies'  – A Tribute to the Dambusters – makes me both proud and humbled. It is my great privilege to attend the performance, and I hope the audience will enjoy this most fitting tribute to all involved in that epic raid, particularly those who did not return."
Councillor Mrs Patricia Bradwell, Executive Councillor for Children's Services, said: "Lincolnshire has an excellent reputation for music delivery and opportunities. To perform as part of the Music for Youth Massed Ensemble is an honour for the county and will musically unite the Children and Young People across Lincolnshire."
Enjoy the film!:
NK's Georgina attended the Schools Proms and was able to chat backstage with Classic FM's Breakfast Presenter Tim Lihoreau who was interviewing performers ahead of the evening's entertainment. He offered some interesting tips on getting into radio as well as his thoughts on seeing some many talented young people performing at the Schools Proms: