Added on February 21, 2014
admin
dick bruna , merci , miffy , simon & shuster , The Young Journalist Academy , tony mitten , yja
Thoroughly Modern Miffy: YJA Exclusive!
This week, a team from the Young Journalist Academy received an exclusive invitation to the  relaunch of the famous Miffy books. The classic children's books, featuring the little bunny called Miffy, are to be relaunched for a new generation.
The character of Miffy was the creation of the Dutch artist Dick Bruna and is now nearly sixty years old.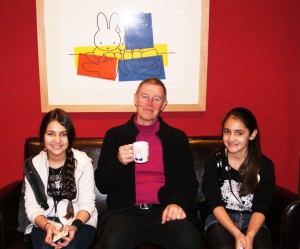 The instantly recognisable white rabbit began life as a story which Bruna told his son about a rabbit they had seen while on holiday.Miffy is still extremely popular to this day with a Miffy book sold every 30 seconds somewhere in the world and over 85 million copies sold to date.
Ellan Van Host, from Dutch publishers Merci, explains that children love Miffy because "she's very sweet and very simple" and "she speaks to toddlers the way toddlers speak to each other".
This year, the language in the iconic children's books will be updated by award winning poet and author Tony Mitton. The British publishers of the Miffy books, Simon & Schuster, exclusively unveiled the new range at the Dutch Centre in London with a craft and storytelling event.
Our Young Journalists, along with several celebrities and their children, were there to meet Miffy and got a chance to talk to the author Tony Mitton.
The updated Miffy range, including colouring and sticker books, are due to go on sale on the 27th February. Click here to check out the Miffy website!
By Deena (10) and Nadia (12) – Guest Journalists