Added on April 3, 2014
admin
journalism , LAFTAs , yja radio
Being a Young Journalist

What it is like to be a Young Journalist? Well, I've been one for nearly two years and want to share a few thoughts with you.
Wow time flies when your having fun! It is a really amazing honour to be one, especially when you survive the interview stage. People think that being a Young Journalist is all about articles and going to lots of different places but it isn't. It is about having fun whilst doing it and learning about things that you have to accomplish.
Bill our 'boss' is really helping us to be really good journalists in the future before we leave for secondary. It's interesting watching the current Year 5s as it brings back memories. They are really getting the hang of it now after the early months of training. I think that they will be really good journalists in the future. I can't wait for what Bill has in store for us but we are working on a few things now.
One of my highlights was when I reported at the International Meccano Model Show and interviewed exhibitors from Germany. More recently, I was filmed talking about my experience of living in East Lincolnshire.
Our current Year 6 team (eight girls!) has made many YJA radio shows, which really tested our news gathering and team working skills.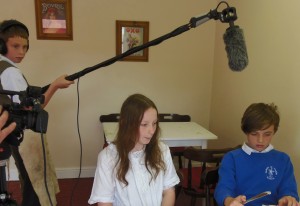 Here at Burgh School, it has become a tradition for the Year 6 Young Journalists to make a film drama for the LAFTAs. In 2010 Burgh won a LAFTA and the trophy has pride of place in our reception. This year we're busy planning a film about WW2 evacuees!
Do you think that you will want to be a journalist when you are older?
Olivia, Year 6 
Burgh School