Added on June 24, 2014
admin
ACF , army , Bedford Ladies , Cadets , cfbt , Norton , sobraon , tug , yja , young journalists
YJA at the National Tug of War Championships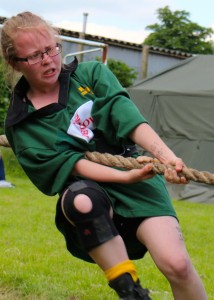 Year 8 reporters, Orla and Alice, from QEGS Alford, had a busy day on Saturday covering the National Tug of War Championships held at Sabraon Barracks in Lincoln.
Mens, ladies and junior teams competed in 13 different weight classes for the gold, silver and bronze medals.
Home team Lincoln were competing at the event after winning gold in the European Championships last year but this time fell just short, losing the final of the mens 700 kilos competition in a very close match with Norton from Staffordshire.
Norton brought with them a very strong squad on the day, competing in 5 of the 6 mens weight classes on offer, and winning five gold medals in the 580kg, 600kg, 640kg, 680kg and 700kg weight classes.
In the women's weight classes, Bedford Ladies finished top of the tree, winning both of the weight classes on offer at 500kg and 540kg, defeating Sheen from Staffordshire in the final of both weight categories.
The junior weight classes saw the Somerset ACF team win gold for the very first time, taking the gold medals in both the 530kg and 560kg competitions.
"We had a very successful championships today," commented Tug of War Association Spokesman Alan Knott.
"The weather conditions and the venue were great, and the teams gave us some very exciting competition on the day. The winning teams will now go on to represent England at the World Outdoor Tug of War Championships in the USA and we wish these teams all the success for the season going forward."
As our YJA reporters discovered, tug of war is a sport that is held in weight classes for mens, ladies and junior teams, there are lots of opportunities for people to have a go and take part."
Now YouTube fans enjoy the action!: