Added on September 18, 2014
admin
bradbury , brian , cox , julian , lincolnshire , raf , scampton , STEM , yja
Professor Brian Cox thinks there may be life on Mars!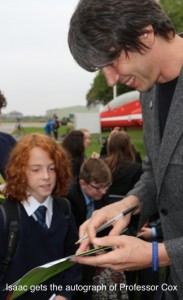 On Mars there is a very big chance that there are living things, according to Professor Brian Cox OBE, who was at RAF Scampton this week. The well known physicist and former musician was a speaker at a STEM event hosted at the famous RAF airbase.
"One of the biggest questions is: are we alone? There is a possibility that there are microbes on Mars now living. There is also a possibility that life began on Mars," stated the popular TV personality.
Probes will be sent to Mars on a new mission to look for underground water. "There is a chance that there is water under the surface of Mars and wherever there is water, like on earth, there will most probably be some sort of life forms," he told the enthralled audience.
Little spurts of water every now and then come up for a while until they get sealed off. "In the papers a few days ago, I saw some pictures of possible water on Mars," he added.
Another TV celebrity present at the event, Jason Bradbury (from the Gadget Show), was equally as enthusiastic. "Life on Mars, WOW! That stuff always fascinates me!" he said.
So what do you think about life on Mars? Are we really alone?
Isaac, Year 6
Heighington Millfield Primary Academy