Added on October 2, 2014
admin
bomber county , lincolnshire , raf , thorpe , ww2 , yja
Pupils experience life in WW2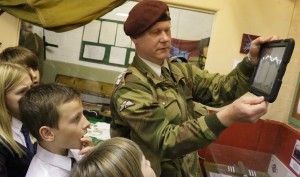 Year 5/6 pupils from Heighington Millfield Primary Academy experienced the reality of life in World War 2 when they visited Thorpe Visitor Centre.
It soon became obvious to the youngsters that this period in the country's history was often sinister and, at times, quite scary for those who lived through it. Air raid shelters were cramped, especially for large families who scampered for protection during air raids.
Accommodation included miniscule bunk beds, a tiny coffee table and teddies for up to 15 children!
'Captain Nick' (Nick Bird, director and secretary at Thorpe Camp) demonstrated how parachutes were packed. (He recently jumped from a plane flying over Holland and captured the experience by wearing a video camera strapped to his helmet! Pupils were able to relive his experience by watching his film on an iPad!)
Pupils were also told about morse code and really enjoyed tapping out their own SOS messages.
One Year 6 pupil said, "As part of our topic, World War 2, we had an amazing time at the Visitor Centre. It was a stunning day; we all enjoyed it so much!"
Listen to Hannah's interview with Captain Nick:
Hannah and Megan
Year 6
Heighington Millfield Primary Academy
Note from Ed: Thorpe Visitor Centre also features in this YJA film, made by Burgh School: