Added on November 12, 2014
admin
Burgh , cfbt , poppies , poppy , remembrance , skegness , Tower of London , war , yja , young journalist
Burgh School Remembers

Inspired by the art installation at the Tower of London, one Lincolnshire school has made its own 'sea of poppies'.
Although Burgh School has not been able to match the four million who flocked to the Tower, their art display, which has now moved from the hall to the reception area, has proved a very moving sight and earned the admiration of visitors, including the local mayor.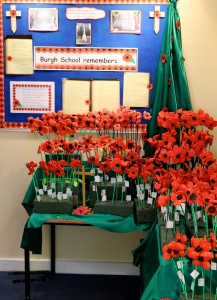 Using a lightweight and durable air-dry clay that is very smooth and pliable, Year 6 pupils have made a wonderful collection of poppies, which when painted red and black were put in holders.
The local church also borrowed these poppies for their Remembrance services.
The school poppies were made in a day compared to the four months of work needed to fill the Tower of London's moat. (Each ceramic flower took three days to make.)
The 888,246 poppies have now become one of the most memorable pieces of artwork in British history, but for local people in Burgh village their own school's contribution to Remembrance will not be forgotten either.
Emily and Hermione, Year 6
Burgh School