Added on November 18, 2014
admin
cfbt , gorilla , yja , young journalist , zoo
'In the Pink' Gorilla Celebrates 40th Birthday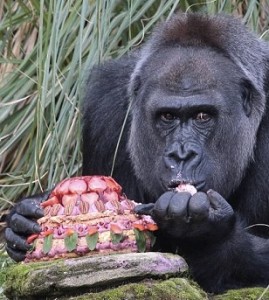 A female gorilla, that loves pink, celebrated her 40th birthday at London Zoo recently, with a colourful carrot, potato and parsnip cake.
Zaire the gorilla got caught in a video from London Zoo, slowly chomping on the layered cake, in her enclosure, before laying on her belly, picking it up in her hands and eating big pieces of a pinkish jelly.
The cake was made by Richard Burr, who was in the final of the great 'British Bake Off', Richard said that the cake was quite hard to make.
Gorilla keeper Glynn Hennessy said: 'Zaire is our old lady of the group, but is still a girlie girl at heart and loves anything pink, as keepers have noticed from various enrichment activities.
The Daily Mail reported: 'Zaire has been at London Zoo for thirty years and is a calming influence on the rest of the group. She's been there and seen it all so she deserves a fabulous fortieth.'
She certainly loved her birthday treat!
Hannah, Year 6
Heighington Millfield Primary Academy