Added on November 21, 2014
admin
action for children , disability lincolnshire , take over day , yja , young journalist academy
Action for Children: Take Over Day 2014
Podcast: Play in new window | Download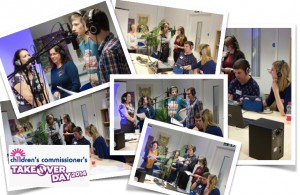 The young people at Action for Children Disability Lincolnshire have taken over their office today. It is all part of the Children's Commissioner's Take Over Day 2014.
The day gives children and young people the chance to work with adults for the day and be involved in decision-making. Children benefit from the opportunity to experience the world of work and make their voices heard, while adults and organisations gain a fresh perspective on what they do.
Alison Buckley-Jones, Transitions Coordinator, said, "This is our forth Take Over Day and this year our young people have taken over the social media channels of Disability Lincolnshire. The young people have recorded interviews with key personnel in our service office and exploring the theme of power and influence. We are also tweeting, updating our Facebook page and creating Wordles using key words around our theme. Our young people are having fun but most importantly it has reinforced everybody in this office the impact of our role to enable young people that we look after to achieve and be the best that they can be".
The young people recorded a live radio programme which can be listened and downloaded here:
And Shaun from the group asked James a few questions about the day here:
You can follow their progress;
http://services.actionforchildren.org.uk/disability-lincolnshire
www.facebook.com/DisabilityLincolnshire