Added on March 19, 2015
admin
astonomy , Eclipse , galaxy , millfield , money , paul , solar , stars , yja
Famous Astronomer Inspires Pupils
Ahead of this week's solar eclipse, Paul Money, the well-known astronomer, was at Heighington Millfield Primary Academy to talk to Isaac our YJA Space Correspondent.
It was not only Isaac who enjoyed meeting the highly talented star gazer, the whole class were inspired by Paul's explanation (often humorous) of the movement of our planets.
(Photo opposite: Isaac is proud possessor of a signed copy of Paul's magazine.)
With the eclipse occurring in the morning, you still have time to listen to the interview!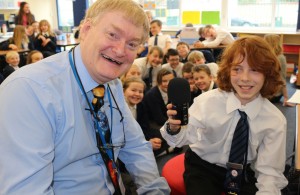 Best place to view eclipse
How to inspire kids
Paul's inspiration
Best sights for winter sky