Added on April 26, 2015
admin
alford , college , cranwell , emergency , first aid , newark , performing arts , qegs , raf , Security , Total Care , UPS , yja
YJA on the UPS: Hospital Emergency
The Uniformed Public Services (UPS) Competition, sponsored by Total Care Security, involved 120 students from six colleges across the East Midlands (Central College Nottingham, Grantham, Boston, Newark, New College Nottingham and Lincoln). These young adults, many of whom are hoping to work in the Police, Fire Brigade, Armed Forces, Ambulance or Security Services, compete in a range of tasks staged over two days at RAF College Cranwell. YJA reporters were invited to take a look at how a real emergency hospital would operate in a hectic situation: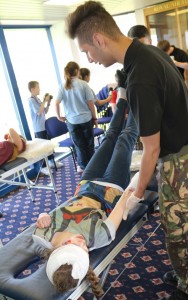 Stuart Dethick was leader of the emergency station. Whilst observing the high drama, he explained how the course worked.
"They're working in small teams. The important thing is to identify what the injury is and how severe the injury is and if there is anything potentially life threatening, I need to know about it."
He guided Grantham College through the process, creating difficulties to test how they would deal with the problem. Often, he would give constructive criticism to help improve the students' medical techniques and leadership skills.
The students, from Grantham College, were all filled with mixed emotions: some were nervous, others were tense and the team leader was confident. They were all working together to try to impress the observers to gain as many points as possible that will count towards the final scores for their group.
Together they took on the responsibility of helping the injured patients from a mini bus crash.
A frantic 'nurse' said, "We've got to try and win this, I guess?"
Another alone young adult quoted, "I'm on my own and I'm not expecting anything!"
The team leader, however, was feeling slightly more optimistic, "I'm feeling alright at the moment. Very confident we've got some good staff. We're just getting the job done," he said.
maybe a couple of people are panicking a little bit
Even though the teenagers were having fun and enjoying themselves, the judges were observing them closely. The team's knowledge and ability were being carefully assessed; every point earned would count towards their final tally.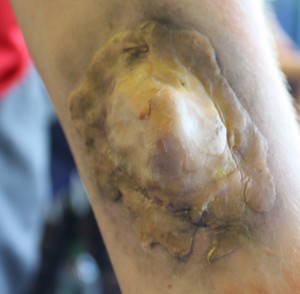 The stern-faced adjudicators, wearing bright yellow vests, gave little away but one whispered to YJA: "I think they have good leadership, good communication but maybe a couple of people are panicking a little bit."
Trainee actors from Newark Performing Arts played the casualties brilliantly. They had brought a range of different stage make-up to provide the RAF with realistic injuries for their guests to heal. Their stage make-up ranged from usual make-up, baby powder and fake blood.
YJA asked for some tips on how to perform a good act and a young man replied: "To become a causality, you must be able to keep a straight face, and to do this, the best technique is to think of something sad and whenever you are in a medical environment, people watch to pick up different emotions and reactions!
Overall, all the teams thoroughly enjoyed the experience, whilst learning key skills at the same time!
Eleanor and Lara, Year 7
Queen Elizabeth's Grammar, Alford