Added on May 1, 2015
admin
Apples and Snakes , National Literacy Trust , National Portrait Gallery , Picture the Poet , usher gallery , yja
Picture the Poet

This summer the Usher Gallery in Lincoln is playing host to the touring National Portrait Gallery exhibition 'Picture the Poet'; a collection of photographs of poets designed to introduce visitors to the people behind today's most popular and well known poems and engage them in the spoken word.
Hannah and Jamila from the Monks Abbey news team attended the opening night of the exhibition and captured the reactions of visitors on what they'd seen so far.
Hear the first opinions on the exhibition: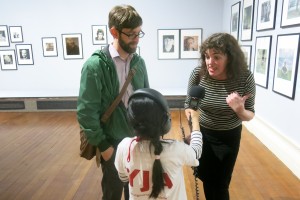 The photographs have been commissioned and collated by the National Portrait Gallery, and have so far been shown at galleries in Norwich, Preston and Sheffield. Justine and Matt from the National Portrait Gallery explained more about how the exhibition came about to YJA's Jamila.
Hear what Justine and Matt think to the exhibition in its new setting of the Usher Gallery:
A programme of activities and learning opportunities have been designed with the National Literacy Trust and spoken word organisation Apples and Snakes with the aim of engaging young people from each region the exhibition visits in poetry.
At the Usher Gallery, a group of young people are having their photographs displayed alongside those in the exhibition, and have also contributed by choosing early photographs of popular Victorian poet Alfred Tennyson, who originated from Lincolnshire. Grace Timmins from the Tennyson Research Centre spoke to Hannah about Tennyson's life as a poet, and explained why he was considered to be one of the first 'celebrities' as we know them now.
Grace Timmins, from the Tennyson Research Centre, talks Tennyson:
The National Portrait Gallery's 'Picture the Poet' exhibition will be on display at the Usher Gallery from May 2nd to August 2nd. Click here to find out more.
Hannah and Jamila, YJA Events Correspondents
Monks Abbey Primary School