Added on June 2, 2015
admin
Air Force , bomber command , bomber county , cathedral , Heighington , IBCC , lincoln , manna , millfield , Operation , raf , Spam , two , veterans , war , world , ww2
When Spam dropped from the Skies
By the end of WW2, the population of Holland had endured five years of great hardship. Many people were very hungry and over 20,000 died from starvation. A special arrangement was made between the German High Command and the RAF, allowing food to be dropped to the starving population below. This mission was named Operation Manna and seventy years later the amazing event has been celebrated.
Serving airmen nicknamed it the 'spam drop' but parcels also included chocolate, potatoes, tinned beef, flour, biscuits and other dried foods and supplies.
Over a 10-day period, the RAF, aided by the USA 8th Army Air Force, flew over 5000 sorties and dropped 12,000 tons of food.
People were eating flower bulbs they were so hungry
Seventy years on Mr Reyneveld, now 89, told the Daily Telegraph: "Without the operation tens of thousands more of my countrymen would have died. People were eating flower bulbs they were so hungry. Operation Manna came just in time to save many people."
Three Lancaster Bombers and their 21 crew were lost during the operation.
In Lincoln Cathedral recently, a ceremony took place in remembrance of the men who were involved in the mission some 70 years ago.
Last autumn, thousands of bulbs were carefully planted in a specially fenced-off area on the lawn under the shadows of the great cathedral.
As the months rolled by and the flowers slowly appeared, a wonderful scene started forming. Visitors were amazed to see the shape of an aeroplane and a parachute appear!
The lovely floral mosaic was a bright spring display of flowers, including tulips and bluebells that had grown from Dutch bulbs.
One Lincolnshire resident said, "It's great to remember the brave people in such a visual and artistic way."
The Dutch Ambassador to London attended the official ceremony to express her nation's thanks to the WW2 veterans, who had travelled far and wide to be there.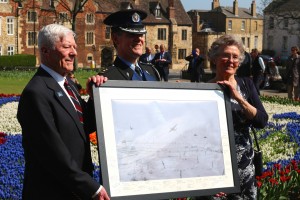 One special guest was a Dutch woman, who survived the war. Holding back her tears, she told the audience that, as a young girl, she remembered the food dropping from the sky! In a very touching scene, she embraced an airman who flew on the Manna Operation. See photograph opposite
The flowers of the display have now withered and soon there will be little evidence of the display, though the brave deeds of the airmen will never be forgotten.
The family of Les Jackson, a rear gunner involved in the mission, have granted YJA permission to play a recording made shortly before his death some 5 years ago:
Here is a page from Les's flight log book:

Amelia, Year 5
Heighington Millfield Primary Academy
The transformation from autumn to spring in the grounds of Lincoln Cathedral: