Added on June 11, 2015
admin
academy , augmented reality , Bringing the Barracks to Life , East Midlands Heritage Award , Eric Langham , Museum of Lincolnshire Life , Sara Basquill , yja , young journalists
Museum gets top heritage award
Pictured: Sara Basquill, Museum of Lincolnshire Life, Jonathan Platt, Libraries and Heritage Manager, Cllr Nick Worth and the judge Eric Langham of Baker Langham (cultural consultancy)
This week, the Museum of Lincolnshire Life has received a top Heritage Award for an initiative that our Young Journalists have been involved with.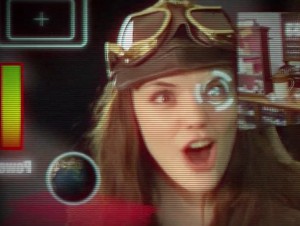 Two years ago, YJA journalists from four of our schools were recruited by the museum to assist in the development of a concept known as Augmented Reality (AR), which has become a real game changer for the visitor experience. The idea was for visitors to be handed a device (or use the AR app on their own smart phone) and when this is pointed at museum exhibits they come to life and talk to you, hence it was entitled Bringing the Barracks to Life.
Click here to go back to 2013 and get the reactions of Emily, who was then a Year 8 at QEGS, Alford.
The following year journalists from Priory Witham Academy were back at the museum to see how AR had progressed and they were very impressed! Click here
A delighted Sara Basquill, Collections Access Officer from the Museum of Lincolnshire Life, said, "We are thrilled Bringing the Barracks to Life has won an East Midlands Heritage Award for 'Innovation'.  Bringing the Barracks to Life was the result of the work of many, not least the children and young people who helped to shape and design the final product and this was recognised by the judges as one of the strengths of the project."

The project uses digital technology to give an extra dimension to county history through new multi-media iGuides, which are packed with video and audio clips, images and games. There are different versions for older and younger visitors, both offering a fresh and fun way to explore exhibits.
The iGuides are complemented by elements of AR allowing visitors to view interactive galleries of images relating to various exhibits. Visitors can meet a virtual tank officer, Victorian school master, construct a WW1 tank, play a game of virtual nought and crosses and listen to WW1 letters home from the front.
There are also three interactive projections where visitors can meet a Lincolnshire poacher in a prison cell; take a penny farthing race around Victorian Lincoln; and help a lady driver start her car.
The East Midlands Heritage Awards recognised excellence and innovation in museums, historic houses and heritage organisation across the region. There were a total of 61 entries from 38 different organisations and the short listing panel were particularly impressed by the number of partnerships and community-led initiatives that were entered into the awards.
Entries came from a diverse range of heritage organisations both large and small and demonstrated outstanding achievements and excellent work taking place across the East Midlands. The judges had some very difficult decisions to make.
The results for the 'Award for Innovation' were:
Winner – Lincolnshire County Council – Museum of Lincolnshire Life for 'Bringing the Barracks to Life'
Highly Commended – Mansfield Museum for 'Made in Mansfield 'Flash Mob''
Highly Commended – Framework Knitters Museum for 'Breaking the Frame: Interactive Luddite Film'
Cllr Nick Worth, Executive Member for Culture and Heritage, said: "I'm delighted this innovative project has been recognised as the East Midlands' best.
"Bringing the Barracks to Life has given visitors a new way to explore the county's past, helping them delve deeper than ever before.
"If you've yet to experience all that the museum now has to offer, make sure you pay us a visit in the near future."
The awards were part of the East Midlands Heritage Conference and Awards 2015 and were organised by East Midlands Museums Service, Museum Development East Midlands and Nottingham Trent University.
(The Bringing the Barracks to Life project was made possible thanks to funding from Arts Council England, Lincolnshire County Council and the Lincolnshire Regiment Trust.)
The making of Augmented Reality: