Added on July 5, 2015
admin
academy , bbc , journalism , journalist , journalists , lincolnshire , media , news , North Somercotes , primary , report , reporters , school , schools , yja , young
North Somercotes Primary News: Ep04
Podcast: Play in new window | Download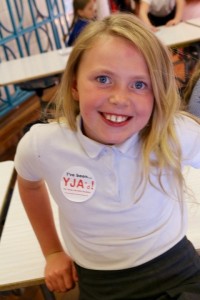 For one day only, North Somercotes Primary School was converted into a buzzing media hub.
A team from The Young Journalist Academy worked with Year 4 & 5 pupils to give them a taste of what life as a journalist is like. Working to strict deadlines, the five media teams had web reports to file plus video and radio programmes to record!
Inside Out!
Inside out is the new Disney Pixar movie. It's all about a small girl and her emotions in her head. There's Disgust, Joy, Sadness, Anger and Fear and they all help her through her life. The movie has made $91 million dollars in 2 days! It will be released in England on the 31st July 2015. We can't wait!
Minecraft
Minecraft is a game about breaking blocks and placing blocks. At first, people built structures to protect against natural monsters but as the game grew, players worked together to create wonderful imaginative things.
Will Football Fever Spread? 
The highlight of the week for many pupils at North Somercotes is when Danny the football coach is in school. Every Wednesday morning its a 20 minute warm-up before the real action starts! After England Ladies achieving third place in the World Cup, no doubt even more pupils will be looking forward to Danny's visits!