Added on October 3, 2015
admin
bbc , bomber command , Dan Snow , Heighington Millfield , IBCC , John Gooding , lincoln , Nicky Barr , veterans , ww2 , yja , young journalists
Great Spire is Unveiled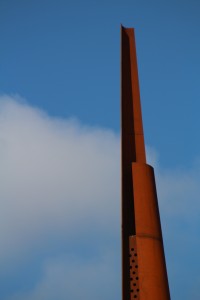 Young Journalists from Heighington Millfield Primary Academy were very privileged to be invited to the International Bomber Command Centre (IBCC) Unveiling Ceremony.
Over 300 WWII veterans, who were part of Bomber Command at a time when our country was in great peril, joined together as the great spire created in their honour was unveiled.
Last month, Aviation Heritage Lincolnshire ran a special poetry competition in schools and Millfield Year 6 Molly's very moving winning entry was chosen to be read out at the ceremony. BBC Lincolnshire captured the moment, when TV presenter Dan Snow beckoned Young Journalists Amelia and Alice to the stage.
During October, the poem can be heard on BBC iPlayer (at the 45 min mark):
http://www.bbc.co.uk/programmes/p0322x45#play
13 Millfield pupils, who have parents serving in the Armed Forces, laid posies at the walls of names – large metal panels showing the names of the many thousands of incredibly brave airmen, who departed on bombing missions, never to return.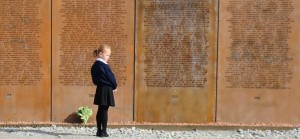 After the ceremony, the YJA team spoke to a number of people who had been involved in the day: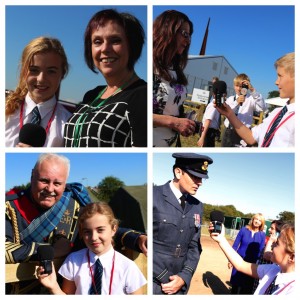 Sue Miller, Aviation Heritage
Nicky Barr, IBCC Director
Drum Major, John Gooding
Ben Fisher
Here's a link to the YJA photo gallery.
Today saw the completion of phase 1, in the future schools will be visiting an education centre, although much fund-raising still needs to be done. The IBCC website states: "There will be a purpose built Education Centre which will be staffed by a full-time team of educationalists, who's remit will include liaising with schools and creating an international on-line teaching resource."
James Flowers, a WW2 rear gunner told the Telegraph: "Bomber County is the place from where many of us operated, so most veterans think that this is the place where we should be remembered. The magnificent memorial, digital archive, exhibition and peace gardens will ensure that memories of our sacrifices will live on."
The construction was delayed when 13 skeletons and pottery kilns were found, believed to date back to Roman times. The target date for the completion of the entire site is June 2017.