Added on November 11, 2015
admin
Burgh , library , school , yja
Lincolnshire Town Gets its Library Back
Earlier this month, there was great excitement in Burgh-Le-Marsh with the reopening of the local library and, of course, YJA newshounds from the local primary school were keen to check it out!
 Like many others, Burgh Library was a victim of cost cutting by the council and has been closed for two years. It seemed like all hope was lost…until now! Since early September, volunteers have worked tirelessly to bring it back to life and there has certainly been some amazing changes.
The best thing about it is the people that run it are just volunteers, meaning they don't get paid for their work, so they deserve a big salute!
The new facility boasts a wide range of books. Fiction and non-fiction books for any age group fill the shelves and adults have loads of crime and war books to choose from.
Parents will be pleased to learn that there's a children's area with books for babies and small children. The counter where you hire your books has high tech computers and trained staff to use them. (More computers have been placed in a corner for people to do their research on.)
Now for the big news. The name… it is called Burgh Reading and Developing Centre.
Click here  to get more information about the town's new facility.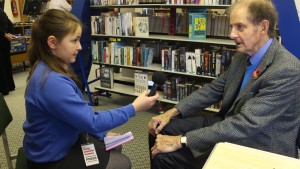 YJA's Emily, a Year 6 at Burgh School spoke to one of the volunteers, Michael Hulls
Casey and Toby, Year 6
Burgh School