Added on November 25, 2015
admin
adele , burgh le marsh , radio , siren fm , The Young Journalist Academy , yja
Burgh YJA Team On Air at Siren FM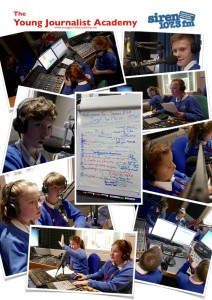 On the 24th November 2015 the Burgh Le Marsh YJA team had the chance to become radio presenters for the day.
They visited Siren FM at Lincoln University to learn how to present and produce a radio broadcast, featuring news about the first British astronaut to live on the International Space Station, Adele's record breaking album and and an unexpected surprise at Skegness Aquarium.
At the start of the day the team were taken on a tour of the three Siren FM studios and then split up into two groups. One group were mentored in how to use the radio studio equipment and present on the microphones while the other group decided what to talk about for their time on air. Then the groups swapped over and before they knew it, it was time to record their show!
Beck from the team said, "I was very nervous to start with but as I got into it I felt better. I was really excited when I found out I had this opportunity to make our own radio show."
To hear this show tune in to 107.3 FM or listen online at www.sirenonline.co.uk.
By the Burgh YJA team