Added on December 3, 2015
admin
arsenal , Cristiano , Diego Costa , Drogba , Heighington Millfield , liverpool , man C , man u , Paris Saint-Germain , spurs , Wenger , young journalist
Fran's Football Focus: 3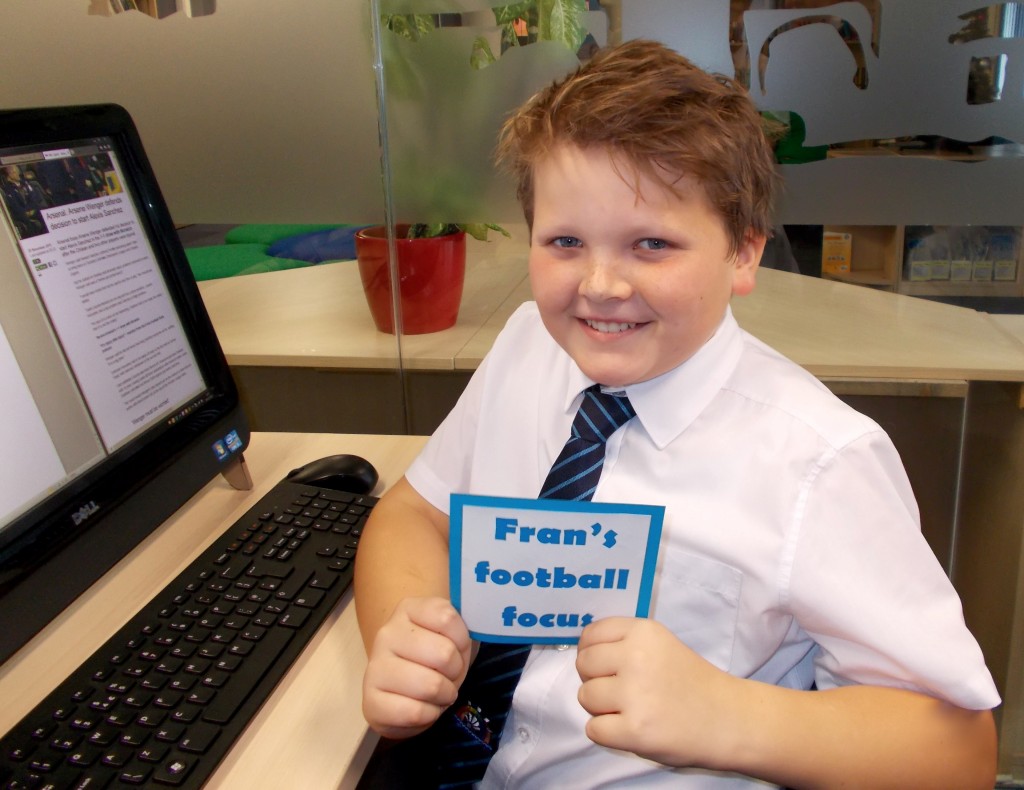 Fran is a Year 6 at Heighington Millfield Primary Academy and is a very keen football fan. Each week, he'll be listening out for the best football stories to include in his regular 'Fran's Football Focus' column.
Could Cristiano be tempted?
Awful news for Manchester United as the French giants, Paris Saint Germain, are more than happy to offer who is arguably the best player in the world 250 thousand euros a week!
The mega-rich French club haven't asked Real Madrid what they want for the Portuguese superstar as yet although, if Ronaldo was to move to the Ligue 1, they would offer him 250 thousand euros a week however, that is 50 thousand euros he would be losing out on. Now it is a matter of waiting, will Ronaldo stay loyal and go to Manchester, or will his brain think money and go to Paris Saint Germain? The final decision will be decided in January when the transfer window is open.
Cristiano's agent, Jorge Mendes, says it is impossible for him to leave Real at this moment in time.
Now we just have to see what happens in January!
Will, Year 5
 Wenger defends decision to start Sanchez
Wenger defends his decision to start Sanchez in last weekend's 1-1 draw with Norwich after he and two other major players were injured.
Wenger said Sanchez suffered "a little hamstring alarm" after scoring twice in last Tuesday's 3-0 Champions League win over Dinamo Zagreb.
But he played on last Sunday when Arsenals injury problems worsened.
"I would of rested him but he said he was fine to play," the Frenchman added.
"Santi Cazorla finished on one leg and has a knee problem; Laurent Koscienlny has a hip problem and Sanchez a thigh problem.
Fran, Year 6
Alexandre Pato interested in move to Premier League
Brazilian forward Alexandre Pato has been offered a move to the Premier League.
Corinthians (his club at this moment in time) would be looking for a round 11 million euros, they state anything more would be a bonus. He is on loan at Sao Paulo, where he will remain until December 2015 so he will look for a move in January 2016.
Pato is keen on a move back to Europe where he played with AC Milan from 2007-2012. Despite not moving to the Premier League when the opportunity presented itself in 2012/13 season, he said it was the right decision at the time as he felt he was under much pressure at the time with AC Milan.
Tottenham, Arsenal and Liverpool are amongst those willing to pay the price. Tottenham say that for that amount of money they are more than happy to sign him.
Will, Year 5
Chelsea may look for a new striker come January
Come the January transfer window, Chelsea say they will possibly look for a new striker. If they are to get a new striker, I think Diego Costa will be very infuriated!
The 27-year-old has a strong relationship with his boss Jose Mourinho, however that may draw to an end if his boss was to look for another striker. I think if Chelsea do bring in another striker then they will not play 2 strikers up front, Diego Costa may be a substitute.
Despite nearly single handily winning the 2014/15 season alone, Jose says he will still probably sign a new striker in January. His reasons were that Diego Costa isn't the player he used to be and he is not in form at the minute. Personally, I'm not sure what will happen but the question is, do you think that Jose will bring in a new striker?
Will, Year 5
Didier Drogba aims to become the Chelsea manager!
Didier Drogba (an ex-Chelsea striker) wants to become the next Chelsea manager as he has admitted it already.
"I want to make the Chelsea team better: I will lift their stamina up, I will not moan at the players and I will make them work as a team," Drogba exclaimed.
Didier Drogba agrees to be Chelsea's manager after he retires from his career for Canada in the MLS League (Major League Soccer).
"Why not? I mean I just feel like it, I want more progress during my lifetime," Didier quoted.
Drogba has set an agreement that he is desperate to become the next Chelsea manager after his time in Canada.
Didier says as soon he returns to the club, he won't be a football player anymore, he will return as manager.
Ryan, Year 6
Gwennan Harries injury forces her to retire
Wales's international star and Bristol Academy striker Gwennan Harries has had a severe injury. She has a long-standing knee injury, which has forced her to retire from football. Harries had been side lined for three whole years after suffering a terrible injury before an international match against Netherlands in 2012.
Gwennan had scored 18 goals in 56 games for Wales and played for Everton when they won FA Cup in 2010. This is a quote from Harries about her injury: "It's on medical grounds that I make the decision to retire."
Jake, Year 6
Stroppy Costa looks like he is tired of life at Chelsea
Diego Costa is getting so tired of being in the box and because of this he has been trying to argue with his manager and boss, Jose Mourinho.
Also Hazard and Fabregas are only just coming out of 'hibernation' and Costa is moaning that he's always in the box but loads and loads of people are trying to tell him that everyone at some time is in that situation. For the past few months Costa has been getting into mischief by fouling and generally making a nuisance of himself.
Jose Mourinho told Costa he was lucky not to be dropped sooner after the Chelsea striker sulked on the substitute's bench, when they were playing Spurs at White Hart Lane. His last antic was to throw his bib in the direction of the Blues Manager.
Will Costa get his own way or not ?
Josh, Year 6
Messi has been revealed!
28-year-old Lionel Messi has announced that he will probably be going to Manchester City. If you have read 'Frans Football Focus 2' then you will know that Lionel Messi originally wanted 600 thousand euros a week! The Manchester team are more than happy to give Lionel 800 thousand euros a week-if you are an adult then you might not even earn that in all the years you work!
If Messi was to take this opportunity then he would be the highest paid footballer in the world, by 500 thousand euros!
Messi has an incredible amount of goals in La Liga, in fact he has scored 356 goals altogether!
When we think about Lionel Messi, he has gone from living with barely anything to being on 300 thousand euros a week (at this moment in time)! I bet you didn't know that Barcelona was so desperate to sign the young prodigy that he signed his name on a paper napkin!
Will, Year 5
Sakho 'little' injury
The 25-year-old West Ham player suffered a 'little' injury during Sunday's 1-1 draw at Upton Park.
Talking about the player's absence, manager Slaven Bilic said, "It will definitely not be a couple of weeks – four to eight, maybe longer."
"We are waiting for the specialists. He has a bit of history with that thigh. It's not a light one unfortunately."
Sakho is one of the top strikers for the Hammers, scoring 5 goals in 14 games.
The Hammers are already missing a midfielder; losing Sakho could push them over the breaking point.
Louis, Year 6