Added on December 10, 2015
admin
barcelona , champions league , Fran , La Liga Player of the Month , manchester united , Neymar
Fran's Football Focus: 4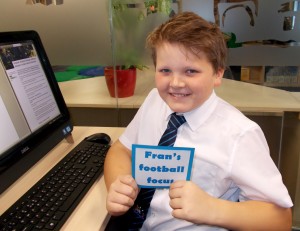 Unfortunately Fran's been poorly this week and unable to sub-edit another edition of Fran's Football Focus. His team does however have a very strong bench and super-sub Andrew was soon warming up and ready to step in!
(To see previous article click here)
Should Manchester United be through?
English side Manchester United were controversially knocked out of the Champions League due to new off side rule.
Former FIFA referee Graham Poll said that if the match was to have happened last year, then the goal would have stood.
Bearing in mind that if an English team doesn't reach the quarterfinal stage, the Premier League will only have three Champions League places to offer.
Man United went 1-0 up, that lead did not last long as Wolfsburg had a free kick, which was converted. Wolfsburg also grabbed another one, the Manchester United fans hearts sunk. Then the moment of controversy happened when Man United scored just before the half time whistle, however the goal did not stand due to strict rules of off side.
Will, Year 5
Fans to question managers
Have you ever thought to yourself, what is it like to be a Manager? There are loads of questions to be asked, there are loads more people that wonder about these sorts of things than you actually think.
So BBC Radio 5 live is airing a Managers' Question Time, with West Brom manager Tony Pulis and Burnley boss Sean Dyche in the hot seat ready to field tweets.
The show starts at 19:30 tonight but you'll be able to hear it afterwards on iPlayer.
Josh, Year 6
The Great Escape
English team Arsenal have, against all odds, just about made the greatest of escapes by reaching the last 16 of the Champions League .
Going into the last game of the group stage Arsenal needed to win by two goals in Greece. Despite losing a whopping 5-1 to a great side in the form of Bayern Munich however they did not let that get them down.
French striker Olivier Giroud scored three as he nearly sent his team through single handily!
As you probably know, the Champions League is a competition for all the best teams in Europe, therefore success by our teams reflects well on the English League.
Should we shed a tear for Manchester United as they depart from the competition? To be fair to the Reds, after PSV won there was nothing they could do to stay in, but boy have they sulked. Apparently their changing room was too hot and stuffy and impacted on their performance!
Will, Year 5
Neymar is the first Barcelona player to win La Liga Player of the Month award!!!
Neymar has been awarded with Spain's La Liga, but not only that, he is the first player to get that award for Barcelona.
It took a game where they scored 5 goals in three games that finally persuaded the workers to actually pick a talented player from Barcelona.
Neymar could well win it again to join the likes of Cristiano Ronaldo, who is one of many players who have won the Liga player more than once.
Neymar obviously worked hard for the award as he has won so many games for Barcelona and has showed respect for his team. He said that he was very "pleased" to win the award and to be the first Barcelona player to get this accolade.
Josh, Year 6
'Fran's Football Focus' comes from Heighington Millfield Primary Academy