Added on January 31, 2016
admin
manor leas junior academy , mlja , stammer , stutter , stuttering , yja
Stuttering: A day in the life of me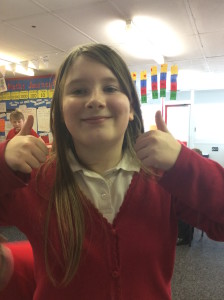 Ever since I've been at school I have stuttered (stuttering is where you can't get a word out).  I've found it frustrating and I do get really angry at times.
People always finish my sentences and it's quite annoying. I know people want to ask me questions about my stuttering so now I'm going to finally answer them.
Q. "How hard is it to stop your stuttering?" 
Well, once a week I have a special speech therapist who helps me by doing special speech exercises.
Q. "Is your stutter worse at other times?" 
Well I get worse at holiday periods and it gets worse when I'm nervous and under pressure.
Q. "Are there any words that are really tricky?"
I'm kind of bad at my b's and g's a bit and find s really tricky.
Q. "What technique to help is best for you?"
Slowing down and sometimes if I sing.
Q. "How do you feel people ask or say things about your stutter?"
I get upset but then know that everyone is different. I don't mind talking about it but I get sad and angry when people make fun of me. Nobody is perfect! What is perfect anyone and who wants to be perfect anyone. If everyone was the same it would be boring and very weird.
People were quite nasty about it and copied my stutter and it was really upsetting. I often got called names that I eventually moved to another nicer school (this one!) and the teachers really helped. I also met three wonderful friends who have helped me with my stutter. I want to say a big thank you to Holly, Harriet and Layla, who are big helps and super friends.
I recommend that if you have a stutter you should get your friends to help you as it really makes a big difference, trust me!
I have tried lots of different methods like having a stone in my pocket which has helped me to remember to do 'magic breathing' (breathing in and pushing the word out). I also listen to music but personally I felt awkward because people were staring at me.
I am really inventive and VERY talkative. My mum didn't really know I had a stutter and knew nothing about it until she met my speech therapist. I was not stuttering as much at my house and my mum has really been a big help and I thank her for that.
If you have a stutter your parents are a really big help and are there to support you. If you are being bullied because you have a stutter just remember you are not alone and tell someone at home or at school about it. I hope you found this article useful and helpful.
By Chelsea
Manor Leas Junior Academy