Added on March 2, 2016
admin
France , Lavelle , lsst , paris , yja , young journalist
Inside Paris: Part 7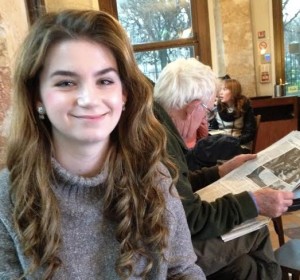 Ellen Lavelle became a Young Journalist during her time at The Priory Academy LSST. Since then, she's finished her A-levels and completed a second year at the University of Warwick, studying English and Creative Writing. Ellen's currently in Paris, studying at Paris-Sorbonne IV for a year. This series of articles provides a useful insight into what it's like to live and study in a foreign capital. (Search under 'Paris' in the YJA search box for previous articles in this series.)
We've got a week off from class now so, instead of being stressed about how much work I've got to do, I've been stressed about cramming as much fun as physically possible into the upcoming nine days. I'm now on day five and, if I do say so myself, I haven't done too badly.
Last Saturday, the first day of the holiday, I had scheduled for the day's fun to take place in the afternoon (I had a few errands to run in the morning). I met a couple of friends at Parc des Buttes-Chamount, which is in the 19th arrondissement. It was a sunny day, but actually pretty cold so after a brisk walk around the park (which is beautiful), we sheltered in the crowded café and had some hot chocolates. Later we met at a crêperie near Place d'Italie for dinner which was lovely. The waitress was nice, the wine was good and the man made the crêpes basically in front of you as you ordered them which was pretty impressive. I sat with my friends for hours, talking about deep stuff. I tried to pour the wine and splattered it all over the table. At one point, the old gentlemen sitting behind us ordered a crêpe that had to be intentionally set on fire. He actually ate it like that, the blue flames lapping at his tongue. Sometimes France is too much.
Day's fun rating: 10/10. Start as you mean to go on, Lavelle.
Sunday was slightly more relaxed. I met a friend for coffee and we worked on our various projects for university, with chats at intervals. Much pondering about future/work/being old people. She was leaving to go back to Ireland for the holiday the next day. Slightly sad hugging her goodbye, so this will no doubt impact the day's fun rating.
Day's fun rating: 9/10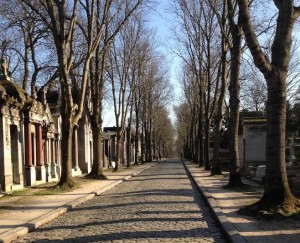 A large proportion of Monday was spent thinking about death. This was because I went with two friends to the Père Lachaise cemetery in the 20th arrondissement, the final resting place of Oscar Wilde, Edith Piaf, Chopin, Molière, Jim Morrison and other famous dead people. I hadn't seen these two particular friends in quite a while so we stopped and chatted on a bench for a bit. My ankle has also not completely healed since my exciting bar-steps incident, and I kept falling over on the cobbles. Took jovial pictures in front of graves and then felt a bit weird about it later. Men in dark suits kept walking past us with urns, as if worried that we might forget that death walks among us. Was particularly pleased about seeing grave of Molière as did as massive project on him while in sixth form. Considered sending photograph of me in front of grave to my old teacher before realising she'd left the school and I didn't have her address.
We expelled the potential morbidity of the day by going and having a hot chocolate in a nearby café. There was basically no one in there but the owner was nice and not creepy so we were able to have a good chat. Again, however, one friend was leaving for Spain for the rest of the week so I wouldn't see her for a while. Sad hug. Minus fun points.
Day's fun rating: 9/10
Tuesday was a day in which productivity was achieved at the expense of fun points. Had to print off a load of documents in order to complete my CAF application which, as anyone that has ever lived in France will tell you, is a black-hole for fun points. However, managed to post documents off without a hitch, apart from a scary moment coming out of the post office where I became convinced I'd left my passport somewhere. After dropping bag onto concrete of street for a frantic search, managed to ascertain that I was indeed still in possession of passport. Had celebratory Belvita Breakfast bar on way to metro station.
Day's fun rating: 3/10. Productivity rating 10/10.
Today (Wednesday), have had very good day. It started off beautifully sunny, which seemed like a good omen. This morning, I discovered a new shop called Tati, which is great if you need to buy ABSOLUTELY ANYTHING. Came home, dumped my bag of purchases and then met a friend at Sainte-Chapelle on the Île-de-la-Cité. Discovered that Saint-Chapelle is basically Hogwarts. It's beautiful – made up of more glass than wall.
Then, once we'd overdosed on culture, we went and got a coffee in the new Shakespeare and Co café. While we were in there, it began to snow outside. Took a lot of photographs. You can't see the snow in any of them.
They have free hand lotion in the toilets that smells really good. Like the stuff they sell in the gift shops at National Trust properties, but French.
Had deep discussions about everything. Drank some coffee. Watched the snow.
Again, however, friend heading back to England for a few days. Sad hug. Minus fun points.
Day's fun rating: 9/10
Tomorrow, two friends from England are coming to stay with me until Sunday. I have bought three bottles of wine, three glasses and have got some Bree in my fridge. I reckon it's 10s until the end of the week.