Added on April 4, 2017
admin
barons , Heighington Millfield , Knights Trail , lincoln , yja , young journalist
Lincoln Knights' Trail: Part 2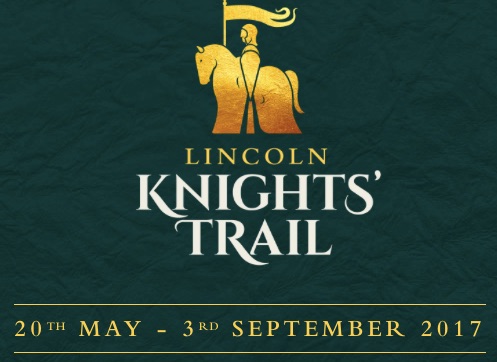 To celebrate the 800th anniversary of the Battle of Lincoln and the sealing of the Charter of the Forest, 36 sculptures will shortly appear across Lincoln to form a Knights' trail. Schools, like Heighington Millfield Primary Academy, have been joining in the fun too! (See Part 1 here.)
After a workshop and a brainstorm of ideas, the school selected ideas from the children's plans and decided on a theme. Millie Hammerton, a Year 6 pupil, had the idea using the four houses of the school, earth, air, fire and water (the four elements of nature). Pupils are now working on these designs in Art Club and in class.
To represent each house, they have completed a variety of artwork, which they will paint and decoupage directly onto the knight:
Earth- our local environment
Air- to represent our links with the RAF
Fire- the local industry
Water- our school logo is a water mill
To involve every child in the school, pupils have drawn self- portraits that will feature on their Knight's chain mail. Year 5/6 have also been creating their very own leaves and water drops, which will be on the earth and water part of the design.
The school's Art Club have had an exciting time exploring different mediums such as acrylic paint and metal sculpting, and have created compositions that represent industry. Now that they have all their ideas, pupils can't wait to start working on the knight. Although their knight will reside in school others will appear on the trail for the enjoyment of the public.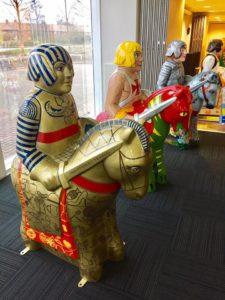 The organisers have stated: "The Trail will be installed around Lincoln for local residents, shoppers, day and staying visitors to enjoy from May 20 through to September 3. It will form a key focus for our commemorative celebrations marking the 800th Anniversary of the Battle of Lincoln and the sealing of The Charter of the Forest."
Head of Visit Lincoln Lydia Rusling said: "We are thrilled that we have secured such strong sponsorship for the Lincoln Knights' Trail and that Lincoln City Football Club has been able to add a 36th knight to this attraction – after doing such a good job in raising Lincoln's profile worldwide."
Hard on the heels of the success of recent Barons' Trail, organisers are confident that the knights will prove a big attraction for people of all ages.
Amira, Year 6
Heighington Millfield Primary Academy
Click here to take you to Part 3.