Added on June 15, 2017
admin
Heighington Millfield , history , Knights Trail , lincoln , Matt Corrigan , tourism , yja , young journalist
Lincoln Knights' Trail: Part 3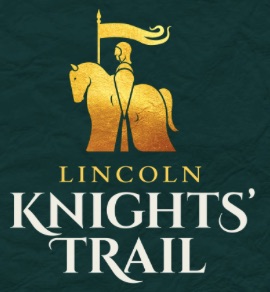 All around the city of Lincoln, tourists and locals alike are following the Lincoln Knights' Trail – 36 hand-painted sculptures that celebrate the 800th anniversary of the Battle of Lincoln and the sealing of the Charter of the Forest. But now local schools are getting in on the act with their slightly smaller versions!
For the last few months, education centres across the county have been very busy designing and decorating a series of very colourful knight sculptures – and they're now ready to make up a unique education trail across Lincoln.
The 45 half-size Lincoln Knights' Education Trail sculptures were officially unveiled this week.
Organiser Matt Corrigan said: "The Lincoln Knights' Trail, which saw 36 full-sized Knights installed around the city on May 20, is already proving a huge attraction for local people and visitors and we are confident that there will be an even bigger buzz when their 'junior cousins' arrive in the city centre."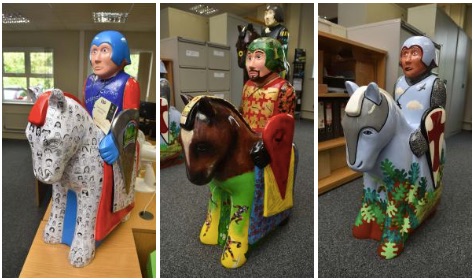 These mini knights will be going to a number of indoor venues and in September there will be a reunion in the Waterside Shopping Centre before they return to schools.
The full-sized knights have already been scattered for tourists and locals to find the clues to complete the Knights' Trail and there has even been an amazing book written to celebrate the event.
The 36 sculptures positioned all over Lincoln were designed and decorated by professional artists, whereas the mini knights are the work of local schoolchildren.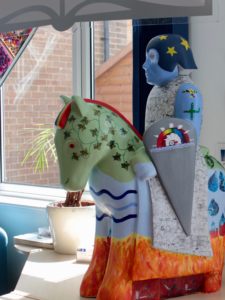 A Year 6 pupil commented: "It's not to everyone's taste but for most it's fun because you have to collect lots of clues to get to the end."
Many other people said that they like it because it is a good way to get outdoors and learn about the past and the big battle that was fought eight hundred years ago.
Whilst the knights on the main Knights' Trail will be sold at auction when the event is over, schools will be able to keep their mini knight (see Millfield's opposite) for display on their premises.
See the previous articles about the knights:
Amira, Year 6
Heighington Millfield Primary Academy