Added on July 8, 2017
admin
art , artwork , curriculum , Heighington Millfield , yja , young journalist academy
School Gets Arty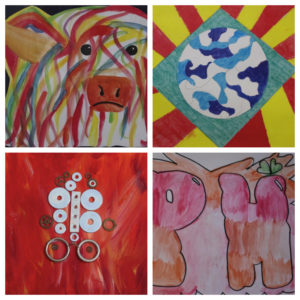 Here at Millfield, we're really big on the Arts; we have our own Art Councillors and a club running for an hour after school every Thursday.
This Arts Club has been running for a very long time! Mrs Thompson has been working her socks off trying to get a piece of art for us to do (alongside Mrs Soutar.)
Also, four Year 6s (two from YJA) help the Years 3 and 4 to create a masterpiece. We are split into two groups with around 15 in each group. They are all so enthusiastic as evident from these responses:
"Art is so inspiring because it makes me feel brave and strong!"
"Art is so amusing I wish I could do this club every day!"
Another pupil has been very happy in the arts ever since she visited a famous work of art:
"The Bayeux Tapestry is a brilliant piece of artwork that has really inspired me from the moment I saw it close up. It was fantastic!"
Millfield has lots of art events such as…
Open Arts Morning (with over 70 adults attending)
The Art Exhibition
School productions/plays (What a knight from the 11th – 13th July)
Craft Club
Forces Group (they do crafts)
Outdoor art lessons
Mindful colouring in RE
Visitors (eg Ben Moss)
We also have Music; we do…
Ukulele- Yr 3
Drumming-Yr 4
Brass instruments (Trumpets, Trombones, French Horns)- Yr 5
Wind Instruments ( Flutes, Clarinets, Saxophones)-Yr 5
Choir
Private singing lessons
Private music lessons
Once we have learned a few songs with our instruments we have music concerts!
Millfield Art Club has before experienced the stress of the Arts Award! There are 5 stages: Discovery, Explorer, Bronze, Silver and Gold. We have only completed Discovery but Explorer is underway! (Also lately, our Years 3 have all received a professional award for completing it!)
We have contributed to the 'Lincoln Knights Trail'. Young Journalist, Amira has written a series on it. Click here to discover the facts and for more information visit these websites:
http://www.theatre-centre.co.uk/education/arts-award/
http://www.millfield.lincs.sch.uk/the-arts
Molly, Year 6
Heighington Millfield Primary Academy