Added on July 17, 2017
admin
ellen lavelle , How to Stop Time , Matt Haig , Newark Book Festival , reasons to stay alive , yja , young journalist academy
Newark Book Festival: Ellen Lavelle meets author Matt Haig
On Saturday 15th July, I met Matt Haig, author of the hugely successful Reasons to Stay Alive, as he toured with his new novel How to Stop Time.
We met at Newark Town Hall, a beautiful Georgian building, where Haig was set to appear as part of Newark Book Festival. For Haig, this was a return to home territory; he moved to the town aged eight and spent most of his formative years there.
As we talked, in a quiet dressing room, the main hall buzzed with Haig's close friends and family, old classmates and old acquaintances. But they were not the only people filling the seats; the event had completely sold out. Later, in the signings queue, I heard many fans saying they'd had no idea Haig hailed from Newark and how delighted they were to have made the discovery.
"It's lovely to be back," Haig told me. "I'm sure I'll see some familiar faces."
It's hard to imagine a more triumphant return. To date, Haig has written fourteen novels; seven for adults, six for children. His work has been translated into twenty-nine languages and several of his novels are in the process of being turned into films. Most recently, Benedict Cumberbatch bought the rights to How to Stop Time, before it was even released. The novel has debuted at number three in the UK hardback charts. It seems as though Haig's got it made.
And yet, it hasn't all been easy. In 2015, his non-fiction book Reasons to Stay Alive took him from being a well-respected, bestselling author onto another plane entirely. In the book, Haig reveals his history of depression and anxiety, recounting his own troubles in order to raise awareness, help eradicate stigma and reassure those who might have similar experiences. The book's success, both in sales and also in purer, more humanitarian, ways, has been phenomenal. Haig has received letters claiming therapists have used it in their meetings with patients. At signings, people have opened up to him, sometimes even crying. Though Haig's book has worked wonders in terms of raising awareness, it must be overwhelming at times, to deal with the emotional response to a book he wrote in a room, on his own.
"It took me a little bit of time to adjust to because I'm not a doctor or a trained Samaritan," Haig said. "For a while I struggled with it but now I'd had a good two years to absorb it all and I'm glad I've done something that's useful for people."
Haig is tall and smiley, chatty and quick to laugh; he doesn't look like he suffers from depression but then, I suppose, that's the point. In fact, his latest novel How to Stop Time deals with this very idea; people can be suffering inwardly without displaying any physical symptoms. In the novel, Haig's protagonist, Tom Hazard, is over four-hundred years old but looks forty, ageing incredibly slowly compared to most of humanity. He's learned how to survive with his condition – keeping his interactions with other people to a minimum, forbidding himself from making attachments – but, without love, is life really worth living?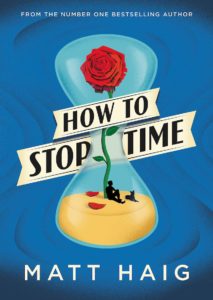 "A lot of my work, this novel included, came out of my experience of having depression and anxiety when I was in my twenties," Haig says, completely at ease. "Depression really made me think about time because, if you're ill with anything – physical or mental – time seems to slow when you're ill. I was ill continuously for three years but it feels like it was half my life; I almost came out of it feeling like I was a four-hundred-year old man. There was also the idea of having a condition that no one else can see – an invisibly condition – that links to mental health. You can be feeling terrible but look perfectly healthy."
It's impressive, I think, how open Haig really is. After spending only a few minutes on his website, I was able to read a number of posts, some funny, some poignant, some incredibly sad, about his life and his hopes for the future. It seems Haig really does practice what he preaches. He's known for being particularly outspoken on twitter, too – quick to call out racists, sexists, homophobes. Later, during the Q and A section of his talk, he wins a loud cheer for his ongoing battle against US President Donald Trump. I wondered if, amongst the uncertainty of this world at this time, Tom's voice, which has 400 years of world-weary experience, was comforting to adopt.
"There was a comfort in it," Haig agrees. "I'd written a book before called The Humans and that was a story about an alien that comes to Earth in human form and looks at human life. I see How to Stop Time as a bit of a companion piece to that. That used the perspective of space which can in itself be quite calming, while How to Stop Time uses the perspective of time… Time can be a scary thing in some ways, with aging etc., but it can also be a comfort to see ourselves a part of a much bigger picture."
And then, as much as I didn't want to, I had to leave Haig alone so he could prepare to appear onstage. The hall was huge, hot – sun streamed in through the high Georgian windows – and was crammed with readers and fans. I'd been volunteering over the weekend at the Newark Book Festival itself and so, with a lanyard around my neck, was granted access to areas unseen by regular ticket holders. I punched the tickets of the guests as they entered, was therefore able to observe how, unlike other events of the day, Haig appealed to an incredibly cross-section of people. Teenagers with lip-piercings, grandmothers with walking sticks, middle-aged women with glasses of wine, young men that quietly shuffled in, wouldn't meet my eye. It made me consider Haig's book; how many of these people, like Tom Hazard, were hiding pain, vulnerability? How many of them felt cut off and alone? That's the amazing thing about book events; in my capacity as a journalist, I've been to a few and I often observe how people can come together when they're united by something they like.
Later, during the talk, I myself played a role in uniting the audience in laughter when, as they battled with a malfunctioning sound system, the other volunteers instructed me to walk up the aisle of the hall, holding a sign that told Haig and his interviewer, Tim Rideout, to turn off the microphones fastened to their lapels and instead use the handheld mic, which seemed more reliable. The problem was, I had to be subtle enough for the audience to not notice me, while obvious enough for Haig and Rideout to read what was written on my sign. Needless to say, I managed to achieve the exact opposite. I was halfway down the hall when the titters started. In fact, it was the laughter of the audience, which increased with every step I took, that eventually alerted Haig and Rideout to my presence.
"Are you doing a Love, Actually?" Haig laughed down from the stage.
"Oh yes, I am," I said. "You need to take your lapel mics off. We're going old school." A volunteer handed him the new mic.
Despite the technical difficulties, Haig was a success. At the end of the evening, a woman came up to me.
"I've had the most wonderful time," she said, beaming.
In How to Stop Time, Tom Hazard describes how time is made up of 'nows' – instead of seeing it as one, long expanse of something terrifying and unfathomable, something we can never understand, we should see it as a series of moments. Tom says, 'There is only the present. Just as every object on earth contains similar and interchanging atoms, so every fragment of time contains aspects of every other… In those moments that burst alive the present lasts forever, and I know there are many more presents to live."
As I walked home that evening, with the evening sun streaming through the windows and turrets of the ruins of Newark Castle, 'now' felt pretty great.
Ellen Lavelle
Senior YJA Journalist