Added on July 23, 2017
admin
Betty Trask Award , Natasha Pulley , Newark Book Festival , The Bedlam Stacks , The Watchmaker of Filigree Street , yja , young journalist academy
YJA meets author of international bestseller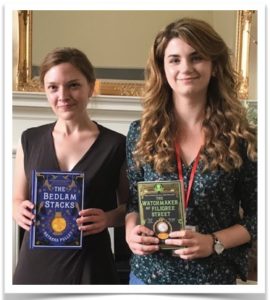 Amongst the hubbub and activity of the Newark Book Festival, I met and interviewed Natasha Pulley, author of the international bestseller The Watchmaker of Filigree Street. She was scheduled to make an appearance in order to promote her new novel, The Bedlam Stacks, which was released earlier in the week. I was working as a volunteer at the festival and Pulley was kind enough to allow me to grab her for a quick chat before she went onstage.
"It feels pretty terrifying," she told me. "There's a lot of weight and expectation after the first book."
The first book – The Watchmaker of Filigree Street – was published quietly in July 2016. Sales were reasonable, but unremarkable, until it was reviewed in Publisher's Weekly a few months later, followed by reviews in national newspapers. By Christmas 2016, the book was a bestseller, winning the Betty Trask Award 2016 and being shortlisted for many other impressive accolades. Pulley's nerves are understandable; it's a tough act to follow.
However, Pulley describes The Bedlam Stacks as an 'antidote' to her first novel; it's the exact opposite, at least in terms of subject matter.
"It was written at the same time as the first book," she explained. "For anyone that writes, I would say that it's a good idea to do two very different things at once so that you don't go insane and kill someone. The first book is very machinery-heavy – clockwork, London smog, technology-based – whereas the second one is about plants, so it's a nice antidote to the first one. I think you can tell that it's the exact opposite thing when you read it."
The Bedlam Stacks is based on a real expedition that went from London to Peru in 1859. Peru was the only known place on the planet where cinchona trees were able to grow; cinchona trees bears quinine which, at the time, was the only known treatment for malaria. Pulley describes the novel as half-historical, half hinging on Peruvian fairytale.
Pulley travelled to Peru herself, in order to carry out research for the book. She described in detail the altitude sickness, says that, though the sickness was bad, it passed in twenty-four hours. It was the lingering stupidity, the inability to rely on one's own brain to make important decisions, that made life difficult for weeks on end.
It is clear, after only a few minutes in her company, that Pulley's brain is probably her most treasured possession. She graduated from Oxford University with a degree in English Literature and describes becoming fluent in Spanish after five weeks which 'is perfectly possible to do if you practice every day.' After spending a year in Paris and leaving just about able to order a coffee in a café without embarrassing myself, I can't help feeling this assertion should be followed with 'if you're incredibly clever, like me'. But there is no moment in which it feels as though Pulley is bragging – she's too busy being enthusiastic. She's interested in all of these wonderful things, has had incredible experiences, is knowledgable in so many areas and needs you to keep up so she can tell you about it. Later, in the question and answer session after her talk, she answers queries from the audience on a wide-range of subjects with such precision and clarity that it's clear she has an academic background. Listening to her would almost be like listening to an essay read aloud, where it not so entertaining.
She describes with awe seeing earthquake-proof buildings in Peru that were constructed so skillfully in the 10th century that they still survive now, outliving many more modern structures. She describes the Aztec reverence for stone – treating it as a living being – and explains why sculpting was such a sacred process; you have to be careful, when you're not sure who you're chiseling into.
I could listen to Pulley for days but, unfortunately, she has a train to catch, more events to attend, more readers to inspire. I have to let her go home now so, instead of following her around, I've bought her book.
Senior Young Journalist
Ellen Lavelle