Added on July 23, 2017
admin
29 Seconds , ellen , Lavelle , lies , Newark Book Festival , T.M. Logan , yja , young journalist academy
YJA meets thriller writer Tim Utton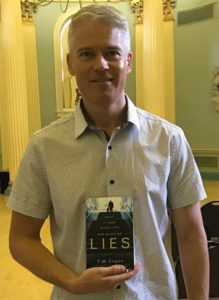 This month, I met thriller writer Tim Utton at Newark Book Festival. I managed to grab him for a quick interview before he appeared on a panel with fellow authors Stephen Booth and Gareth Baker. Utton, who writes under the pseudonym T.M. Logan, launched his debut novel, Lies, a contemporary psychological thriller, in January 2017 to a warm reception by critics and readers alike.
"It's been a crazy six months," Utton told me. "Up until publication day, only a dozen people had read it. My family, my wife, my agent. You go from that small group to it being enjoyed by thousands of people – that's hard to get your head around sometimes."
Lies tells the story of a man named Joe Lynch who, after an impulsive decision, discovers that his whole life is a fabrication – that many of the people closest to him have been feeding him lies. Joe must excavate these lies, uncovering the fact and the fiction and discover the truth, before it is too late.
"I guess I've been surprised by how people have embraced it," Utton says. "It's really hard to know how a first book is going to be received, so for it to have gone down as well as it has is really incredible."
Though Lies is his first published novel, it isn't Utton's first major work. He has been working as a writer for the last eleven years but cites his interest in storytelling to early childhood. The youngest of three boys, Utton often felt left behind by his older brothers and learned to occupy himself with fictional stories and worlds. Jobs in communication and journalism, including a stint at The Daily Mail, allowed him to hone his writing techniques but it was always a career in fiction that remained Utton's ultimate ambition. He describes reading books under his desk at work, unable to put them down.
"That's what I want to write," he says. "A book that will get people in trouble at work."
It's early days for Utton and Lies but, with Amazon already describing it as a #1 bestseller and five-star reviews pouring in, it's a good start.
"I've already written book two," Utton says. "It's called 29 Seconds. It just went to my publishers last week. There'll be some edits, no doubt, on that and then it's due for publication as an e-book in November this year. Hopefully people will embrace that in the way they've embraced Lies. I just want to carry on writing – that's my main goal at this point."
With the success of Lies behind him and the promise of 29 Seconds ahead, it seems as though that goal has already been achieved.
Senior Young Journalist
Ellen Lavelle