Added on July 24, 2017
admin
ACF , army cadets , Autism , music , Owen Jones , PanthaDogg , Rapping , yja , young journalist academy
TAKING THE RAP – LIVING WITH AUTISM
At an early age, I was diagnosed with high-functioning autism, which is a social and communicative learning difficulty affecting 1 in 100 people in the UK. This single-handedly changed my life…… for the better.
There is no cure for my condition, and my parents were told I would never have any relationships, friendships nor receive a
legitimate education and generally be deprived from any form of independence whatsoever. However, 14 years later, I proved thousands of people wrong, in several different ways.
When I was seven-years-old, I first listened to 'Till I Collapse' by Eminem and Nate Dogg. This got me into rap music, which changed my life and has become my burning passion for the past ten years. I have listened to thousands of rap songs and, under the stage name PanthaDogg, I have lost count of how many songs I have written. My biggest influences are Eminem, 2Pac, The Notorious B.I.G., Big Pun, Bone Thugs-n-Harmony and The Roots.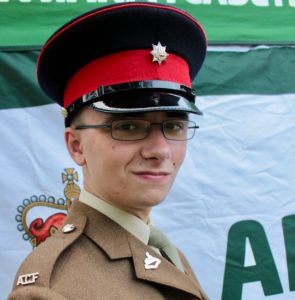 Away from music, since the age of 13 I've thoroughly enjoyed being involved the Army Cadet Force (ACF); it has become part of my life. I have met some incredible people, made bonds stronger than family, had wonderful experiences, hugged, laughed, cried, marched (a lot), sweated and done some amazing things.
At my ACF detachment based in Lincoln, I have seen some incredible people come and go. I am proud to have stayed with my exemplary boys and girls since the day I walked through the door as Abbey detachment's first ever cadet, then to serve as its senior male cadet and to try and set the trend as "The King of Abbey Detachment"!
I leave the Cadets next April so I hope to make the rest of my time in the ACF memorable – a career that people will look back on and say "Oh yeah, Owen Jones? The rapper? Oh, I remember him; he was a legend. He was revolutionary. We miss him. Long live the King!"
Owen Jones, aged 17
Lincoln