Added on October 10, 2017
admin
Creswell Crags , history , lincoln , lincolnshire , nettleham junior school , school trip , stone age , The Young Journalist Academy , worksop , yja
A day out to Creswell Crags
This is my diary entry for my class trip to Creswell Crags. 
Tuesday 10th October
We are going to Creswell Crags today on the bus.
When we got there we were split up into three groups and our team was called the 'Reindeers'. The people at Creswell Crags gave us helmets with  torches on and we went inside a cave which had lots of tunnels.
The caves were cold and dark and if we didn't have our torches on we wouldn't have been able to see anything. I picked a little stone off the walls of the cave and when we walked out the little rock crumbled to pieces.
It was then on to the next activity. A lady there gave us objects and we had to try to make a fire. We couldn't do it but another group did. We then tried to try catch prey like the way Stone Age people did. There was a fake sheep and a wooden spear and we had to throw the spear at the sheep. I managed to get the spear into the wooden sheep!
Now it was time for the last activity. We walked into a room with a large screen and we watched a video about animals that lived in the Ice Age which was really interesting. We then had to search for types of Ice Age animals in another room which was like a museum. Some of the animals around that time are still on earth today, like hyenas.
It was an amazing day and I think that other schools and families would love it.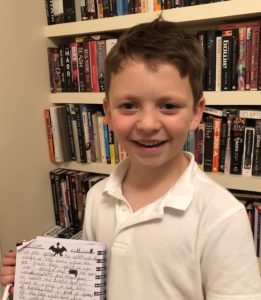 By
William – 3B
Nettleham Junior School
For more information on Creswell Crags visit: www.creswell-crags.org.uk
Creswell Crags is a limestone gorge honeycombed with caves and smaller fissures. Stone tools and remains of animals found in the caves provide evidence for a fascinating story of life during the last Ice Age between 50,000 and 10,000 years ago. Further evidence came to light in 2003 with the discovery of Britain's only known Ice Age rock art.