Added on November 9, 2017
admin
a levels , army , Cadets , Egineering , gcse , grantham , maths , military , MOD , science , STEM , technology , Westdown Camp , yja , young journalist , youth
Army Cadets attend STEM event

During the half-term holiday, Army Cadets from around the UK were chosen to attend a STEM (Science Technology Engineering and Maths) camp, hosted at Westdown Camp, Salisbury Plain. The six-day camp consisted of a series of activities and short lessons on how the modern British Army makes use of the wide range of technology it has at its disposal.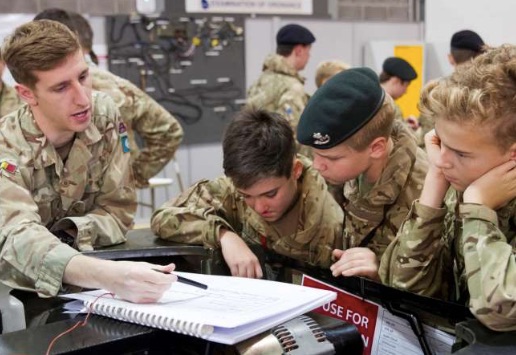 Ex SCIENCE IN ACTION was an ideal opportunity for cadets in Years 9 to 13 with an interest in STEM to gain an understanding of how the Army makes use of STEM in a military context and to encourage young cadets to continue with STEM-based subjects at GCSE, A Levels and beyond.
In total, 160 cadets from the UK's Combined and Army Cadet Forces attended this over-subscribed event, doubling the numbers of last year's very successful pilot. (The adults present were a mixture of schoolteachers, STEM ambassadors and engineers, who have an interest or direct involvement with STEM through civilian employment.)
During the Camp, cadets were able to see how the modern Army makes use of the wide range of technology with the cadets being exposed around the various locations to over £2 million pounds of equipment.
Grantham cadets were well represented:
Sergeant Darshan Patel said: "It has opened my eyes and gave me a greater insight into other options which are available to me after I leave college."
Lance Corporal Jack King was equally enthusiastic: "I wanted to join the REME before I came on this camp and am considering the role as a Recovery Mechanic. "
But it was not only the cadets who valued the experience. Adult Instructor Tommy Napier, also from Grantham, commented: "Each day was crammed with STEM activity. The Army did a great job in showcasing what they had to offer these young people, a great majority of whom wanted to further their career in the MOD."
Evening activities included Q&A sessions hosted by staff from Welbeck Defence Sixth Form College and The Army Foundation College, Harrogate. Other popular activities included talks on Networking, Cyber Security, Technical Surveillance Counter Measures (TSCM) and, for senior cadets, Leadership.
By the end of the camp, cadets had a greater understanding of how the Army applies STEM and the many and varied career opportunities available. One of the event organisers, Col Anthony Lamb, Ex-Director Reserve Forces, summed the week up nicely when he said: "The cadets left with a wealth of knowledge they wouldn't have gained otherwise. It just goes to show you can be a scientist, without wearing a lab coat!'