Added on December 14, 2017
admin
acting careers , alladin , Burgh , Cast , embassy , festive , lincolnshire , panto , pantomime , skegness , theatre , yja , young journalists
YJA meets Aladdin

With a magical story of love and adventure, Pantomime season is returning to the Skegness Embassy Theatre.
The well-known panto 'Aladdin' follows Aladdin and Window Twanky on a romantic comedy adventure that takes you through the special streets of old Peking.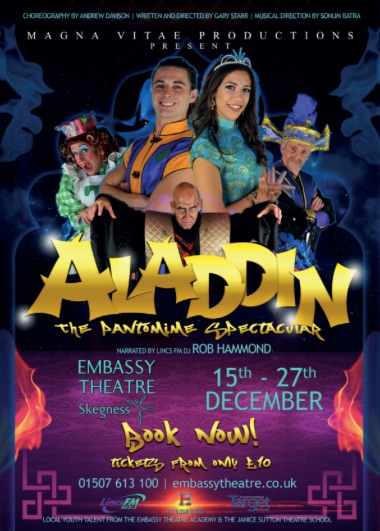 On his adventure, Aladdin discovers a carpet and he rubs a magic lamp and then appears a wish-granting genie. Aladdin's wicked uncle Abanazar hears rumours of this genie and battles Aladdin for the lamp and genie!
Click here to meet the cast on YouTube.
A spokesman from the Embassy Theatre said: "Aladdin is a story of adventure and love, where the hero and his uncle battle in the pursuit of a golden lamp with extraordinary powers. For 2017, your wish is our command, the only two things you have to do is believe and… rub the lamp!"
This pantomime, which looks like being a huge success, is a special one because it has been specially adapted to meet some needs of people who may or may not find it difficult to attend a more traditional performance.
Remember, all you have to do is believe in magic and in yourself and if you need any help all you do is… rub the lamp!
Next week, we'll be at the Embassy to see the production so watch out for our review but, before then, as the cast came to our school, you can earwig on some interesting chats that took place in the hall!
This Magna Vitae Productions' spectacular begins December 15th.
Click below to listen to the school hall interviews:
Louis, Eryn and Erin, Year 6
Burgh School