Added on December 20, 2017
admin
acting , aladdin , embassy , Magna Vitae Productions , panto , pantomime , skegness , yja , young journalist academy
The Magic of 'Aladdin'
This article has been compiled with the help of Erin, a Year 6 Young Journalist at Burgh School.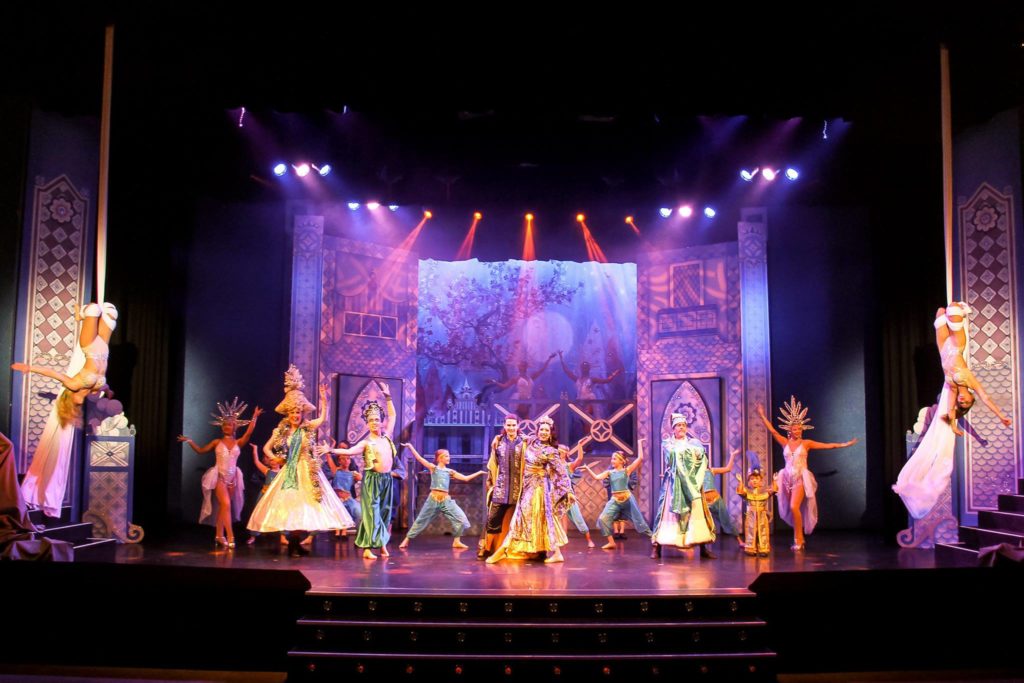 At the Embassy Theatre, in the popular seaside town of Skegness, a spectacular production of the famous pantomime Aladdin is well underway. With the exception of Christmas Day, performances will continue through to the 27th of December.
Back in the summer, Magna Vitae Productions promised a panto that would be 'the most opulent and spectacular professional pantomime ever seen on this stage'. Well, they certainly delivered on that promise.
Pupils from local schools have packed the theatre to be treated to the famous tale of adventure and love that takes you through the streets of old Peking and, to the astonishment of the very vocal audience, through the skies on a magic carpet ride!
Ollie Tricket, who plays Aladdin, told YJA, "My highlight was when I was on the magic carpet, flying high in the sky whilst singing one of my favorite Disney songs!"
The young audience clearly loved Aladdin but, in contrast, they took an instant dislike to his wicked Uncle Abanazar, expertly played by Stacey J Gough. In classic panto style, he attracted a constant barrage of hisses and boos in his effort to get his hands on a lamp with extraordinary powers.
As the world knows, Aladdin soon falls in love with the beautiful Princess Jasmine, played by the wonderful Jo Shah. With considerable help from the lamp, he overcomes many obstacles and, much to the delight of the audience, eventually takes her hand in marriage.
Jo, who is well known as the female lead in the award-winning British Asian Reality TV Show 'Desi Rascal' (Sky 1 and Sky Living), is really enjoying her lead role. She told YJA, "I am having so much fun, to the point where I don't want it to end!"
Click here to listen to all the YJA interviews, including the hilarious Widow Twanky (Dereck Walker), the regal Emperor (Mark Shaer), and, of course, the wish-granting and very funny Genie (James Houlbrooke).
The gifted cast was quick to acknowledge the fabulous contributions of local dancers and child actors from the Embassy Theatre Academy and Janice Sutton Theatre School, plus the Speciality Cirque act Laura Ladbrook and Bethany Clarry with their unique contribution of 'magic and wonder'.
Luckily, one of the young dancers is Eryn (pictured right) from the Burgh School YJA team. Once the excitement dies down, Eryn has promised to share with YJA her very special experience!
Tickets can be purchased here.
The images for this article have been kindly supplied to YJA by Magna Vitae Productions: