Added on January 19, 2018
admin
ACF , army cadets , Cherry Willingham , Danny Cowley , football , yja , young journalist
Being a Mayor's Cadet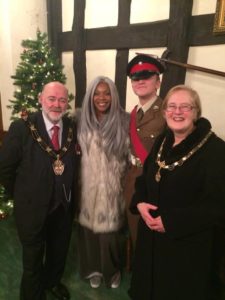 Connor Smith, an army cadet from Lincoln, has had the honour of being appointed 'Mayor's Cadet'. This means he will be accompanying Cllr Chris Burke, Mayor of Lincoln, at a number of official events, which have already included Armistice Day and Remembrance Day commemorations.
Connor also accompanied the Mayor at the switching on of the Lincoln Christmas lights, when he had the added pleasure of meeting TV celebrity Sandy Bogle (pictured right) and also Lincoln City Football Club's much-revered managerial team, Danny and Nicky Cowley.
Having represented the ACF's Eastern Region in the National Soccer Finals, Connor is a keen footballer himself so meeting and chatting with the brothers was a real thrill for him.
The role, which lasts for one year, is awarded to outstanding young people who have excellent interpersonal skills and the ability to interact with a wide range of people.
Connor is really looking forward to being involved in more civic events over the coming months.
Looking back over his time in the Cadets, Connor recalls vividly the day a representative of the local Army Cadet Force visited his school to give a talk about life in the Cadets. "My brother, who is five years older than me, had been an army cadet, so I had a pretty good idea of what was involved but that school presentation sealed it for me. To be honest, I couldn't wait to get started," he says.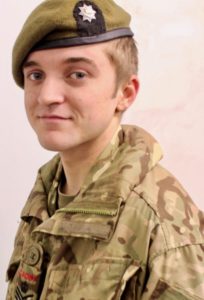 At his detachment his enthusiasm and ability soon became apparent. After his first year, he was awarded 'Best Cadet'. Promotions followed at regular intervals although he confesses to being surprised and delighted to be made Cadet Staff Sergeant shortly after returning from last summer's annual camp.
Now, as a senior cadet, he gets a lot of satisfaction from helping others and even assists with training at other detachments around Lincoln. He particularly enjoys First Aid and values 'just knowing what to do' in an accident scenario.
"I think my cadet experience has made me more confident and given me an extra layer of maturity. Helping others becomes second nature," he admits. "I would say to anyone thinking about the Cadets give it a go. It's such a great opportunity to make friends and the range of skills you'll learn is amazing."