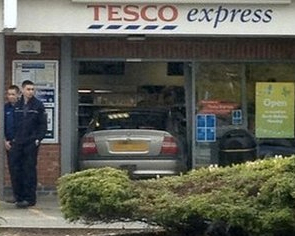 So it would seem.
The new mayor of St Edmondsbury, Councillor Terry Buckle, drove into the store at Moreton Hall on Tuesday afternoon.
His friend and colleague, Councillor Frank Warby explained that Councillor Buckle was blaming the accident on his cars brakes. He told BBC Radio Suffolk: "Councillor Buckle went to park his car, the brakes failed and the car carried forward."
He added "Luckily enough it was an automatic sliding door that opened as he went forward, causing minimum damage to the car and to the store itself."
An eyewitness from Newmarket said, "I was sitting in my car using my phone and when I looked up the car was sitting in the doorway of the shop- there was no sound or anything, it was just there."
The Mayor was shaken up and taken to hospital, but sent home later on.
Tesco said nobody was hurt and that it was now considering "options for bollards" at the entrance.
Katie, Year 5
Heighington Millfield Primary Academy