During an interview with a park ranger, Keelan, a Year 6 Young Journalist, from Priory Witham Academy, discovered that snakes with poisonous bites live in an area just three miles from Lincoln city centre!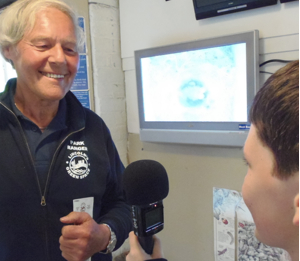 During a YJA radio show, Colin Parker, a ranger based in Hartsholme Park, told our young reporter that an adder had been spotted at Swanholme Lakes. (Many grass snakes, which are harmless, live in the park.)
Recently, Keelan, together with four other Young Journalists, spent the morning at the park interviewing people who work there.
Daily at 7-30am and 11am you can hear their fantastic YJA Radio show coming from Hartsholme .
Here's a taster: click here
Senior Ranger Ruth Simons has told the local press: "We are very pleased and excited at having a new species confirmed in the lakes where the habitat is ideal for adders."
The actual area is fenced off and has restricted access. Fortunately, adders will leave people alone if they are not disturbed.
Ruth added: "The adders are unlikely to move into Hartsholme Park due to the differing habitat, but you can find harmless grass snakes and lizards there."
Staff within the park are preparing an information board for visitor to learn more about the snake, which is considered a declining and therefore protected specie.
An adder bite can cause nausea and faintness, swellings and vomiting but can be treated effectively in hospital using anti-venom medicine.
Editor