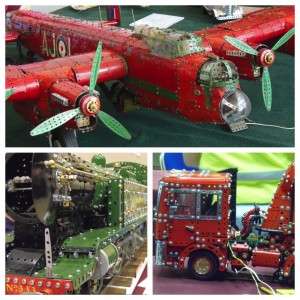 Last weekend, the 32nd International Meccano Model Show was held at the Embassy Theatre in Skegness. Hundreds of visitors, many from abroad, poured into the east coast resort to see a vast array of models ranging from funfair rides, weird contraptions propelling marbles to Lancasters and the Seven Wonders of the World!
In the 1950s, Meccano was the No 1 construction game, attracting young and old but the arrival of Lego reduced its appeal. Going by the popularity of this event, it looks like Meccano is fighting back!
Lizzie, Morganne and Olivia, Year 5s from Burgh School, were at the show to find out more: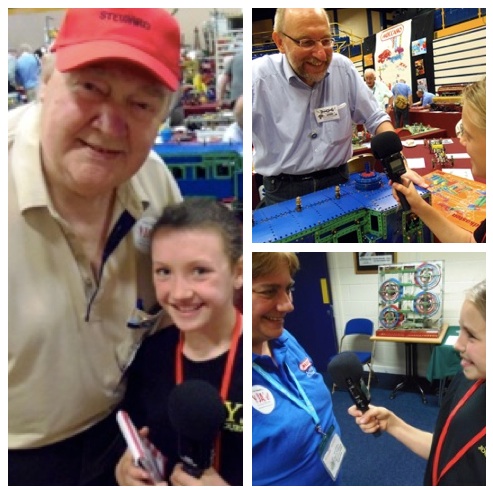 Left Morgan with organiser Geoff Brown. Top right Lizzie interviewing George from Germany and bottom right Olivia talking to Wendy, who runs Meccano classes.
To listen to the interviews, click on the name: Geoff   George    Wendy
Here's their report:
At the weekend there was a Meccano exhibition at the Embassy Theatre in Skegness.
There were lots of different models like fair ground rides,bridges and the Seven Wonders of the World. Many of the exhibitors  were from overseas, including Luxenburg, Germany and even Australia, to show off their models!! One exhibitor said, "We have travelled a long way to get here!"
The organiser Geoff Brown exclaimed," The Meccano started a long long time ago. But sadly Lego has taken over Meccano and you don't really see it very often."
Wendy Miller runs Meccano classes for young people and is organising a Meccano Challenge. If you're interested, your parents or teacher can contact her on this number: 01509 844308.
Do you think Lego has taken over Meccano?
Morganne, Lizzie, Olivia
Year 5, Burgh School
(You can hear more from the Meccano Show by tuning in to YJA Radio at 10am or 5-30pm.)