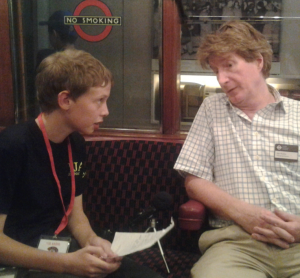 One of the very best things about YJA is that its young reporters are not afraid of using their initiative to report the news. Last term, Matthew, a Year 6 at Burgh School, wrote a letter to the London Transport Museum requesting an interview to discuss the celebrations marking the 150th birthday of the London Underground. He was rewarded with an invitation from Sam Mullins, the museum's director, to travel down to London and meet up for a chat!
Matthew talked about the museum's efforts to restore a steam engine and put it back on its original route from Edgware Rd to Moorgate. It was 'a stunning celebration that attracted media attention from around the world,' commented Sam.
Matthew also found out about the Underground's future plans  – an east to west route under the current Central Line, which will increase the Tube's capacity by 10%! Full-sized trains will run on the track, not the tube-sized ones we're used to seeing.
To hear Matthew's interview click here