Cathy Thompson is no stranger to Junior News. Young Journalists have in the past interviewed her about her charity fundraising and some of the challenges she has taken on, including two London Marathons and a seventy mile two day run across Britain. So, how is she progressing and what challenges await her?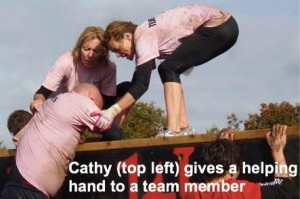 September will be very busy, as she has the Great North Run on September 14th followed by the Berlin Marathon two weeks later. In October, it's closer to home as her gym team take on the 'Survival of the Fittest" event in Nottingham –possibly the UK's toughest obstacle course!
Together with her training partner, Rob, she aims to raise £10,000 for Children with Cancer UK charity and is well on the way, with £8,500 banked.
Of course, Cathy has to stay very fit to compete. On a normal week she runs up to forty miles and visits her gym four to five times.
Cathy's advice to would-be fundraisers is 'don't think about it, just do it-anything is possible!'.