The National Trust has warned that the UK's puffins are in danger of becoming extinct as rising sea levels and warmer water destroy their habitat.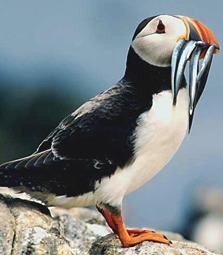 As climate change increases, violent storms and flooding are more common and our coastlines are eroded.
The puffins love to feed on the cold-water sand eel, but these are moving north as our sea waters warm.
Matthew Oates, the Trust's national specialist on nature and wildlife, said: "Climate change could change the face of our coastal flora and fauna. We are likely to see the boom and bust of more specialist plants and animals, as they suffer from increased flooding, salt deposition or drought stress. Unfortunately there may be more bust than boom."
The Trust also states that our warming seas have led to an influx of invasive species that don't mind warmer sea temperatures, such as zebra mussels and japweed.