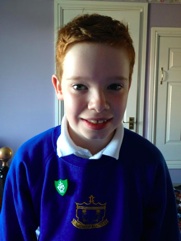 Young Journalist Patrick describes how he earned his very own Blue Peter badge…
One of my favourite television programmes is Blue Peter and I watch it every Thursday on CBBC.
Not long ago my mum found her Blue Peter Badge which she was awarded many years ago for collecting dolls in their national costume. That's when I wondered what I could do to win a Blue Peter Badge and it was then that I realised that my litter picking might be good enough to succeed.
Every Sunday I pick up litter from the lane at the back of my house with my dad and I've been doing it for about a year. It all started when I joined the eco club at school. My teacher, Miss Howden, runs the Eco Club at school and teaches us things such as litter picking, recycling, looking after wildlife and caring for the environment. I've left Miss Howden's class and I'm in Year 5 now but I wanted to carry on the good work that she taught me. We take our litter grabbers and often fill bin bags full of rubbish which included a glass. This could have been very dangerous as a person or dog could have cut themselves. Also, a bird could have become stuck in it.
I wrote to Blue Peter and told them the story of my litter picking and I was very excited when they wrote back to tell me that they had awarded me the Green Blue Peter Badge which is for environmental issues. I felt really proud and my local newspaper called the 'Horncastle News' heard my story and put my photo and wrote about me in the paper.  I hope my story will encourage other children to look after their local environment.
By Patrick
Horncastle Community Primary